Sketching out the ideas will now be easier for the developers using Windows PCs. Ink to Code, a Microsoft Garage Project is now available for the app developers to prototype their ideas in a better and easier way. So if you have been making your sketch on papers and then coding your ideas in Visual Studio from scratch, this is certainly a good news for you.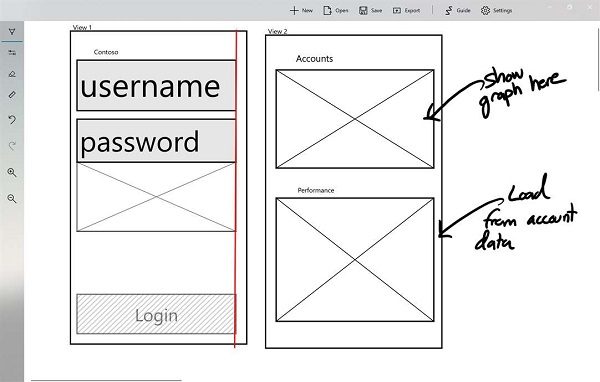 Ink to Code from Microsoft Garage
Ink to Code app works as a canvas where the developers can draw their wireframe sketches quickly and then export them to Visual Studio to speed up the process of prototyping the interfaces. Please note that the app works best with Visual Studio 2017. Developers can draw their frames with the magic of artificial intelligence and by using Windows Ink. The Ink to Code app will not just save your time but will also help you to visualize your ideas quickly and proceed accordingly.
Talking about the app, Microsoft says, "Ink to Code was created by Garage interns last summer in a bid to modernize the brainstorming and prototyping process. While Ink to Code can't bring a full app vision to life, it significantly cuts down on creating the basic foundation of the app with the power of automation." The first version supports basic app visual elements including labels, text fields, text paragraphs, images, and buttons," Microsoft noted.
The app is still in its early stage so you might face a few functionality limits, but it certainly will help you bridge the gap between analog and digital. Microsoft also promises to bring new features and functionality improvements in near future. Drawing the frames on a paper and then turning it into code is surely an intimidating task and Ink to Code can help you in this.
Ink to Code is available for HoloLens, Windows 10 PC and Windows 10 Mobile and works on x86 and x64 systems.
Sign in to your Microsoft account and download the app from Microsoft Store.