"I'm just starting my journey… ready for challenges" this is what he said to the world. Satya Nadella is a well known personality and a CEO of the leading software giant, Microsoft. The journey from "Hyderabad Public School" to Microsoft CEO was never too easy, but this man with the power of his intelligence and dedication have made this happen. Today, Satya Nadella is the inspiring personality for many of us.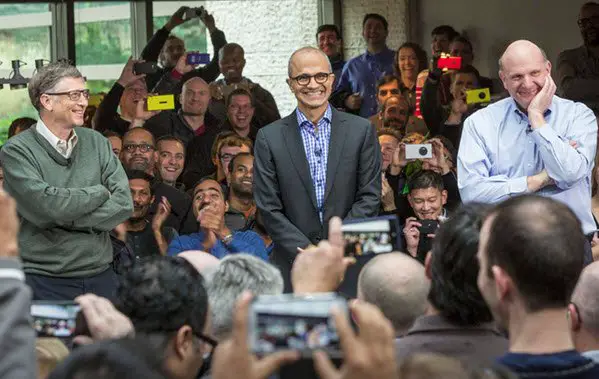 People from all around the world are following his footstep to achieve their goals. His persistent determination, leadership and team work quality, innovative vision and excellence in work are the keys of his and Microsoft's  success. Last one year seems to be remarkable for Microsoft as many new bold decisions were taken throughout the year.
In the every first year of his work, Satya has bought many cultural changes in the company making Microsoft to drive in a new direction. He has already taken steps to make his Organization and his people to achieve their set goals.
Listing here, 10 remarkable events that has happened since Satya Nadella took over the reigns of Microsoft,
Satya Nadella was announced as a new CEO of the company on 4th Feb 2014. Soon after holding the position of CEO of the world largest software company, Satya Nadella made his intentions very clear. What came, was a series of new innovative advancements keeping in mind the interest of the customers.
On 27 March 2014, Microsoft under the leadership of Satya Nadella announces Office on iPad in San Francisco. People should use Microsoft services across multiple devices is what Microsoft was aiming about.
In a matter of just a few days, Microsoft on 2nd of April, introduces Windows Phone 8.1 with personal digital assistant software Cortana at Microsoft Build Developer Conference. There were many other important

announcments

made at the event.
On April 15th, 2014, Microsoft announces the data platform for everyone.
Surface Pro 3 announcement was made on May 30th 2014. Microsoft said that Surface Pro 3 tablets will replace laptops since the new device is coming with high future capabilities like a cloud, OS, apps, service etc.
On 10th July 2014 Satya Nadella wrote an Email with the strong desire of future success where the focus was on increasing the productivity of the customer and the organization.
On 30th September 2014 Satya announces the commercial cloud service Azure and Office 365.
Cloud Briefing was announced on 22nd October last year by Microsoft. More and better features were introduced to cloud computing to deliver the industry's most complete cloud solutions.
On 21st January this year Microsoft has moved forward from bringing computing across devices from large screen to no screen. Many more announcements were made on the say day to take the world to the new generation of personal computing.
Recently Microsoft on 29th January announces Office on iOS and Android with the aim of exploring the power of Office everywhere and on every device.
So you can see how many big announcements were made by Microsoft under the guidance of Satya Nadella. This is all because of the hard effort done by Nadella together with his team.
Stay tuned, as in the future we expect more to come.