There was a lot of shopping, traveling and clicking being done in 2012 and the favorite app for uploading filtered photos on the move was of course, Instagram. As the year comes to an end, the company has revealed a list of the 'most-instagrammed' places in the world, the top places that users have uploaded pictures of through Instagram.
Neither of any of the Seven Wonders of the World takes the top spot but instead, an airport holds the No.1 position on the list. Bangkok's Suvarnabhumi Airport is the 'most-instagrammed' location of 2012 with more than 100,000 photos of it been taken this whole year. This airport, nicknamed the 'Airport of Smiles' can handle 45 million travelers every year. Another airport on the list is the Los Angeles International Airport on the sixth place.
Of the top ten locations, seven are in US (four in Los Angeles itself) and a lone representative from Europe. Asia holds the top two positions on the list, which is as below: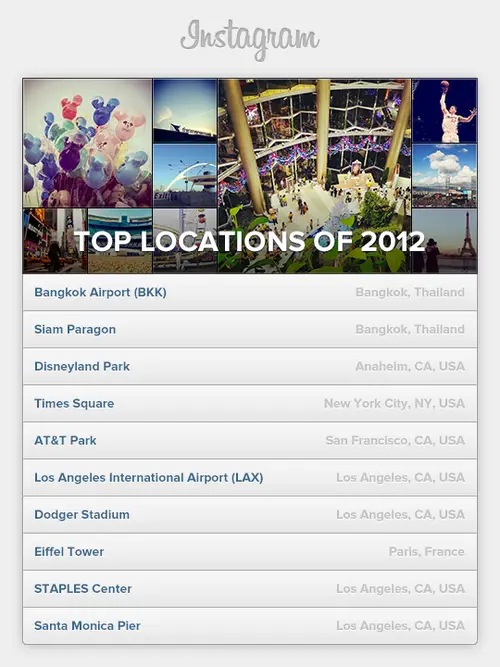 Of late, Instagram has been on a see-saw with regards to its consumer relations and there are speculations of decrease in its active user base which Instagram denied later.
Anyway, here's looking forward to another great year with even more traveling and clicking.