Intel announced their all-new 9th Generation of Processors. Last year, they introduced a high performance based Core i9 CPU which was mainly meant for gaming. This year, the made it even better. They say that their new CPU dubbed as i9-9900K is the best gaming processor in the world. Period. It has got eight cores and 16 threads. It is clocked at a base frequency of 3.6 GHz and can be overclocked up to 5 GHz.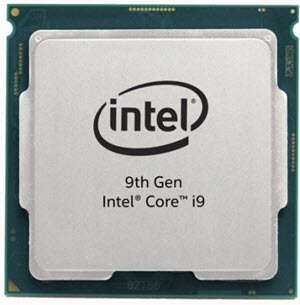 Intel 9th Generation Core processors
Along with this, they also announced the 9th Generation of Core i5 and Core i7 CPUs too. The Core i7 is modeled as i7-9700K and comes with eight core and eight threads. And it is clocked at 3.6 GHz and can be boosted to up to 4.9 GHz wheres the Core i5 chip is modeled as i5-9600K and comes with six cores and six threads. It offers a base speed to 3.7 GHz and can be boosted to up to 4.6 GHz.
It is new but is still running on the same architecture as they are since the 5th Generation of Broadwell from 2014 at 14nm process. However, it is slightly upgraded from the old architecture since last year and is called as 14nm++. With this, their rumored 10nm CPUs are delayed until 2019. However, Intel says that these CPUs is the first desktop CPUs to come with hardware fixes for Meltdown Variant 3 and L1 Terminal Fault vulnerabilities and they are claiming to fix other vulnerabilities with software updates.
If you are convinced to but these CPUs, you can pre-order them right now and they will start shipping by October 19th, 2018. As per the discussion above, the Core i9 will cost around $488, the Core i7 will cost $373 and the Core i5 will cost $262.
But they didn't stop here, they also announced a new set of their Core X CPUs which are coming in November. This includes the Core i9-9980XE which comes with 18 cores and 16 threads. It will be marketed as the Core i9 Extreme Model and will be turbo boosted to a clock speed of 4.5 GHz and is priced around $1,979. There are also 5 other Core i9 X-Series CPUs. They are,
16 Cores / 32 threads of Core i9-9960X for $1,684.
10 Cores / 20 threads of Core i9-9820X for $889.
8 Cores / 16 Threads of Core i7-9800X for $589.
And their super high powered Xeon processor with 28 Cores and 56 threads also got an upgrade. Modeled as W-3175X, it comes with a clock speed of 3.1 GHz and can be boosted up to 4.3 GHz. The price for this was not announced but was confirmed to start to ship in December.
You can find more details about the announcement here.