In the ongoing CES 2015 event in Las Vegas, Intel quietly announced Intel Compute Stick. Just like Google's Chromecast and Amazon's Fire, it is a HDMI stick that comes installed with the Windows 8.1 with Bing OS, which is designed to run on low cost hardware devices.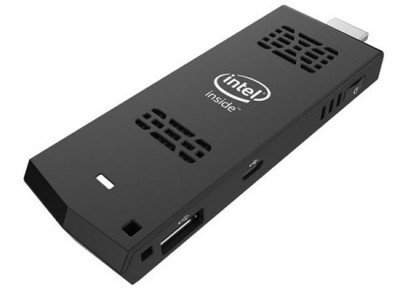 Intel Compute Stick
Compute Stick is powered by Intel Bay Trail Z3735F quad core processor, 2 GB of RAM and 32 GB of eMMC storage that can be expandable using microSD card slot. It offers wireless capabilities at 802.11 b/g/n & Bluetooth 4.0 support. It also has USB and male-HDMI port (1.4a, using a standard connector) to connect external devices.
The stick will draw power from external power source to work however in future version of Compute Stick, it will able to draw power over HDMI itself.
Compute Stick is capable of playing 4K videos when saved on its 32 GB internal memory. In the future version of Intel Stick, we can expect it to be running on Intel Cherry Trail and Core M based processor.
The stick is designed keeping in mind about storage and performance which is needed for light productivity, social networking, streaming media using various online streaming websites like Netflix, Hulu or playing online games.
Compute Stick brings in revolution in Plug and Play devices those are capable for performing multi-tasking work with Remote Desktop access on the go. It also brings low power solution for developers who create light digital kiosks with no or zero-installation. Those kiosks can be easily viewed on static HD content on displays located anywhere.
Intel Compute Stick is available in two versions, Windows 8.1 with Bing and Linux OS. The Linux Stick is a lower end stick, and it comes with 8 GB of storage and 1GB of memory. The first Intel Compute Stick will be available in March this year and is priced for $149 for Windows version and $89 for Linux.
UPDATE: It is now available for sale.
Intel Compute Stick is expected to create a buzz in market with its low price and specification. What do you think?