Microsoft Garage Interns have made a difference at Microsoft. Students have created multiple new projects as part of their internship program with many among them receiving great accolades from their mentors and public. Microsoft took to the Fire Hose blog to share how interns at Microsoft Garage, are making an impact for themselves and helping the company.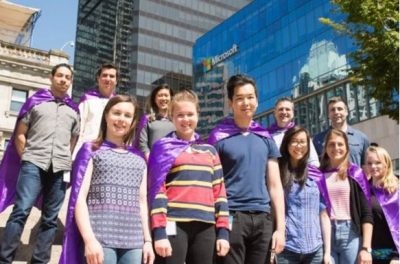 Interns at Microsoft Garage launched 5 new projects
One of the interesting stories to come out is of a 20-year-old, Maddy Leger. She had just 12-week of winter internship experience as a software developer when she was trusted to become a "Program Manager" by Microsoft.
Sharing her experience, Maddy mentions,
"I think part of being a PM is periodically checking in on the devs and designers and making sure they're in good spirits and doing well," Leger says. "As a PM, I learned about the importance of beta programs, how to start one and use it to collect telemetry and data from users, and how to use that data to make informed decisions about the features and the product. I've also learned a lot about time management.

I am currently studying the legal/privacy/security/accessibility review process and why all of those are really important to Microsoft. I'm also hoping to see three of the products ship at the end of this internship, which would be really, really cool."
One of the projects to come out from Maddy;s team is "Project Santorini". Santorini is a Windows app that provides an innovative way to surf through old photos using metadata. App users can use location or time to browse through the photos.
Like Maddy, interns at Garage get to see the products they've worked on or released to the public by the end of their 12 or 16-week internship.
Interns at Microsoft Garage, Doers, not talkers
Students are divided into teams and allotted to project ideas that interest them the most. Thereafter they work closely with their respective business groups which provide them mentorship, guidance, and domain expertise.
The internship involves each student contributing to the project. Software engineers take design decisions, user research and sprint planning. Designers work on user research and even write code for the projects. The PMs are part of all the teams and help with everything from feature design to legal reviews.
Ben Fersenheim, who runs The Garage Internship Program in Cambridge, says
"For students, I think the program demonstrates in a very tangible way that Microsoft is a place where they can have true impact on people's lives. We have a motto in the Garage: 'Doers, not talkers,' and I think we live that motto – students get a chance to deliver working code to real people.
Thanks to the contribution from Interns, Microsoft Garage recently launched five new projects. Project Santorini, Write Ideas, Hearing AI and two browser add-ins (Projects Copenhagen and Oceana) are ready – you can check them out and apply to be an early adopter at the Microsoft.