Time has changed! The modern era of corporate connectivity now allows its employees to access to files from any location and any device. This has enabled great consumer experiences at work. However, it has also raised the risks of threats to corporate data. Microsoft Intune, a cloud-based management solution helps in protecting mitigating these risks. Intune Adoption Kit is now available.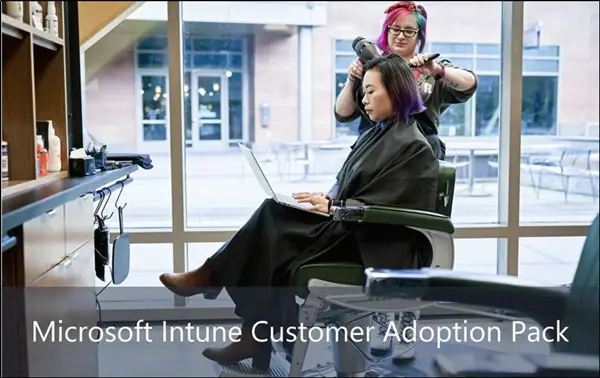 Microsoft Intune Adoption Kit
The latest version of Microsoft Intune Adoption Kit rolled out includes:
Email Templates for Communications Plan (Value, expectations, schedule, availability, instructions for enrollment, reasons for migration)
Detailed videos with step-by-step instructions to aid users in enrolling devices for Intune
Intune End User Enrollment Guide:
Reference document in PDF or .DOC. The Word version can be modified to include your internal resources and contact information.
Microsoft wrote-
We are excited to announce the updated Microsoft Intune Customer Adoption Pack is now available. It is a set of content and guidance that IT administrators, trainers, champions, and change management professionals can use to drive Microsoft Intune adoption in your organization and help ensure your users get up and running quickly.

This adoption pack contains videos, posters, and onboarding templates that can be used as is or customized to simplify the endpoint management adoption in your organization. It complements the wide range of planning guides, communication guides, and end user help available in Microsoft documentation, he added further.
It's vital for an organization to have the necessary resources and support tools available to help them migrate to Microsoft Intune. The latest Intune Customer Adoption Pack helps them integrate Microsoft's Intune solution more efficiently
You can download the kit and customize your own communication plan.