Cybersecurity and anti-virus provider Kaspersky has accused Microsoft of following unfair practices in Windows 10. The company alleges that Microsoft has been using its dominant position in the operating system market to force its own security product while disabling other 3rd party security software.
Attacking Microsoft, Eugen Kaspersky, head of the Russian security company Kaspersky Lab, said that Windows users have been complaining that the PC is changing settings without their consent. Moreover, user-installed apps are being uninstalled and replaced with standard Microsoft ones.
Microsoft deactivating Third-Party Security products
Kaspersky says that Windows 10 upgrade automatically and without any warning deactivates all 'incompatible' security software and in its place installs Microsoft's Windows Defender. This activity itself is a breach of user's trust because of the following reasons.
Microsoft is to be blamed for Windows 10 detecting 3rd party software as "Incompatible"
Eugen points out on Kaspersky blog post that Windows Defender would continue to detect 3rd party software as incompatible since independent developers are given only one week to make their OS compatible before the release of the new version of the Windows 10. Even if the software did manage to be compatible according to the initial check before the upgrade, weird things tends to happen and Defender would still come back with a message of "Incompatible".
Eugen further mentions in his lengthy blog post,
"It gets worse…

Even if users have compatible protection from an independent developer already installed, Defender appears with an alarming window. It fairly shouts that Defender is switched off, because you've some other AV installed. There's a big juicy Defender 'Turn on' button too. Of course, many users will be inclined to press this button: 'well, it's from Microsoft – the people who make the OS; must be good; no harm in turning it on for sure'."
Low possibility for independent developers to warn users about the expiring licenses
Kaspersky says that in Windows 10 third party developers have limited possibility to inform users about their licenses expiring in the first three days post expiration. Although a warning exists, but it's buried in a Windows Security Center notification, which hardly ever gets read.
This 3 days' post expiry are crucial because during the same period a significant number of users seek extensions of their security software licenses. And if a user forgets to renew a license, then Microsoft deactivates the existing AV, and turns on Windows Defender.
Limit on the number of Antivirus programs that users can have in Windows 10
Kaspersky says that Microsoft has placed a limit on the number of Antivirus programs that users can have on their Windows 10 PC. For instance, if a user who already has a full version of a 3rd party antivirus program, further install a trial version of an another third party Antivirus program, Windows automatically switches off both the Antivirus programs post the trial periods of either and instead turns Windows Defender 'ON".
Windows Defender isn't the best on offer
Contrary to Microsoft's claims, Windows Defender isn't really the best antivirus program in the market but a below average.
Commenting on Windows Defender Eugene says,
Not to mention the fact that it noticeably lags behind on the functionality front: it doesn't have: parental control, built-in VPN, webcam protection, password manager, backups, exploit protection, protection for online banking and online shopping,  proactive protection against future threats and dozens scores hundreds of other features which are all useful in providing maximum protection and a better user experience.
Supporting his claims, Eugene shows data from AV-Comparatives report, that highlights Defender scoring quite high in False positives and missed samples for September 2016.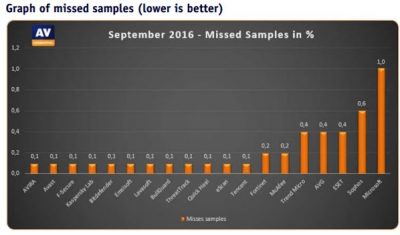 Kaspersky has taken the decision to address official bodies in various countries (including the EU and Russia) with a request to oblige Microsoft to cease its violation of anti-competition legislation and to remove the consequences of that violation.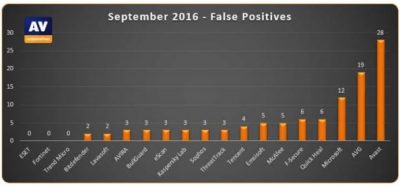 To read the Kaspersky blog, click here.
Update: "Following Kaspersky lab's complain, Russia's Federal Antimonopoly Service (FAS) has reportedly opened an investigation on Microsoft over the possible use of its dominance".