It has been a while now since Microsoft has started pushing cumulative updates to its supported operating systems on the second Tuesdays of every month. Following this tradition, Microsoft recently released KB4457128 cumulative update for Windows 10 v1803 this patch Tuesday. However, some users have been reposting that this update installed twice for them.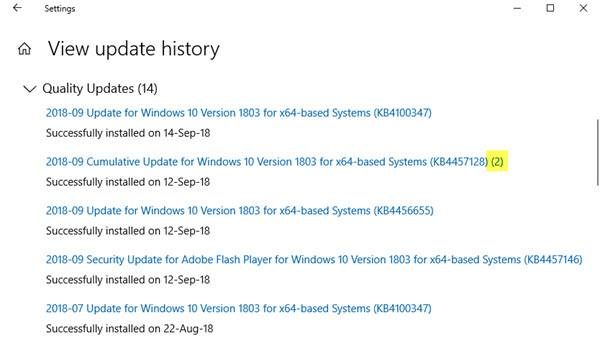 What's new with KB4457128?
Microsoft has listed bug fixes, quality improvements, and reliability improvements. This update applies to the following components inside Windows 10 Version 1803,
Internet Explorer
Microsoft Edge
Microsoft scripting engine
Microsoft Graphics Component
Windows media
Windows Shell
Windows Hyper-V
Windows datacenter networking
Windows virtualization and kernel
Windows Linux
Windows kernel
Microsoft JET Database Engine
Windows MSXML, and Windows Server.
What's wrong with KB4457128?
Well, people are reporting that this update gets installed twice on their machines. Well, there is not much of major harm that this update causes to the computer, but it is a matter of concern as it is not normal at all.
One user created a Microsoft Answers Community thread, and people have posted their opinion about this over there. A Windows Insider wrote,
"This is what happens with MS not giving these CU to Insiders on Just Fixes as they once did prior to releasing. This could have been prevented. Now the whole world has to deal with this."
William Hartman from the Windows team responded in the thread as the users to post on the Feedback Hub,
"Can I get one of you to make a FBH post about it and share it? Then whoever else is experiencing it as well upvote and update it if you could.

I'll take that link and share it with the engineers who will check into it further."
What makes this weirder is that Windows 10 prompts for the installation of this update only once. You can read the post on Answers.
What about you? Do you see two entries for KB4457128 in your Windows 10 Update History?