Microsoft's most-recent cumulative update KB4571756 for Windows 10 2004 is reportedly breaking Windows Subsystem for Linux 2 (WSL 2). Recently, Microsoft released a new security update as part of its Mega Patch Tuesday which purportedly improves security when using input devices or when Windows performs basic operations.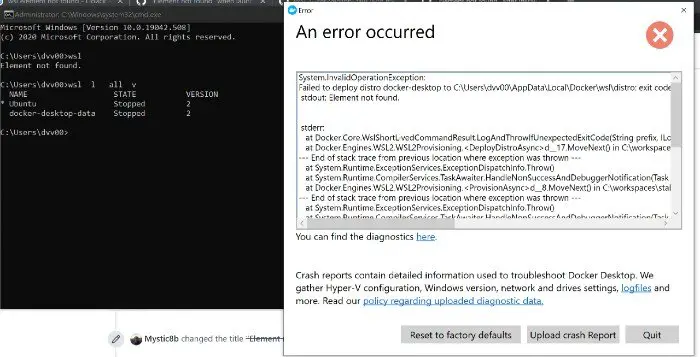 Windows 10 update breaks WSL 2
Other key highlights of the KB4571756 release includes updates for storing and managing files and improvements to security when using Microsoft Office products. However, the update is making the headlines for something that nobody must have seen coming.
We have seen several complaints that Windows 10 2004 users are no longer able to launch WSL with Windows Terminal. Ideally, trying to launch Windows Terminal with WSL should work just fine. But perhaps, this isn't the ideal situation we are talking about.
Although Microsoft is yet to officially acknowledge this as an issue with the KB4571756 update, several Windows 10 users have complained that trying to launch WSL with Windows Terminal renders an error message:
"Element not found."
Apparently, uninstalling the KB4571756 update fixed the problem for some users.
How to uninstall KB4571756 update from Windows 10
Go to Control Panel.
Navigate to Programs > Programs and Features > Installed Updates.
Select "Update for Microsoft Windows (KB4571756)" from the list.
Click the option "Uninstall."
Restart your Windows 10 computer.
now re-try launching WSL with Windows Terminal.
Read: How to install Windows Subsystem for Linux 2 on Windows 10
Meanwhile, installing the KB4571756 update on Windows 10 2004 is causing one more issue. According to Microsoft, users of the Microsoft Input Method Editor (IME) for Japanese or Chinese languages might experience issues when trying to perform certain tasks.
"You might have issues with input, receive unexpected results, or might not be able to enter text."
You can temporarily mitigate this issue by enabling compatibility mode, as follows:
Go to Windows 10 Settings.
Type IME settings into the search box within Settings.
Select the Japanese IME Settings.
Select General.
Turn on Use previous version of Microsoft IME.
Are you facing issues in Windows 10 2004 after installing the KB4571756? Let us know in the comments below.