Microsoft has launched the ergonomist-approved Wireless Comfort Desktop 5000, which utilizes a Comfort Curve layout that encourages natural wrist posture with a slight six-degree curve. This new desktop set combines the Microsoft Comfort Curve keyboard layout with a soft-touch palm rest to make the PC experience more comfortable.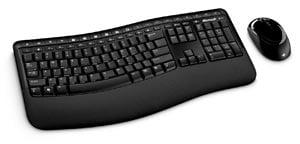 To complement the comfort, the Microsoft Hardware Group also created smart one-touch features for Windows 7 to help consumers make the most of their new Windows 7-based PCs.
Smart Features for Windows 7:
The Wireless Comfort Desktop 5000 is the perfect companion for Windows 7 because it gives people smart ways to make everyday computing tasks easier.
A new time-saving feature called Taskbar Favorites gives Microsoft keyboard users an easy way to access their open programs. Instead of the traditional My Favorites Keys with stored locations, Taskbar Favorites will map to the location of open applications on the improved Windows taskbar. The icons in the taskbar can be easily rearranged just by clicking and dragging; Taskbar Favorites will instantly adapt to the new icon locations.
Other Windows 7 integration features include these:
• Device Stage. Microsoft Hardware mouse and keyboard products will support Device Stage, a Windows 7 feature that gives customers quick and easy access to common tasks, including product information, registration, settings and more for popular device categories such as cell phones, cameras, printers, portable media players and input devices.
• Windows Flip. Microsoft mouse and keyboard users can easily see a thumbnail preview of all open windows with the press of a button. A full-screen preview of the application will automatically display, enabling the user to better identify and select the desired application.
The Wireless Comfort Desktop 5000 will be available later this month at Microsoft Hardware, for an estimated retail price of USD 79.95