As per the latest report from Microsoft Security Center, Keygens have become the number one threat reported by users, especially in newer versions like Windows 8 & Windows 7. This research is done on the basis of reports received from users of Microsoft anti-malware products. According to the report, 76% of users that downloaded Keygen or software cracks were also exposed to other, more dangerous malware.
What are Keygens
Keygens are basically generators of a product or license keys, which are necessary to activate a software application. Keygens or Cracks can be downloaded from various websites with which users can bypass the product registration. Most such website are dedicated to software piracy. These are the websites where Keygen software distributions may be infected with malware by third-parties.
Keygens are not hazardous on their own. However, malware authors contaminate the sources by pretending their deceptive downloads as Keygens. These authors can also include the 'real' Keygens into the deceptive downloads and into other malware that spread their malicious downloads. As a result, users who report of having their computers affected with Keygens are often susceptible to threats from additional malware infections. Microsoft's research indicates that some of these additional threats can also trick users to pay for the Keygens, which are actually distributed for free from trusted sources.
Due to such characteristics, Keygens have become the number one threat to systems running Windows 8 and Windows 7. This malware may have any number of interfaces, depending on the serial number or keys they are generating.
Following are the detection trends for a number of notable and potentially unwanted software families in 2012.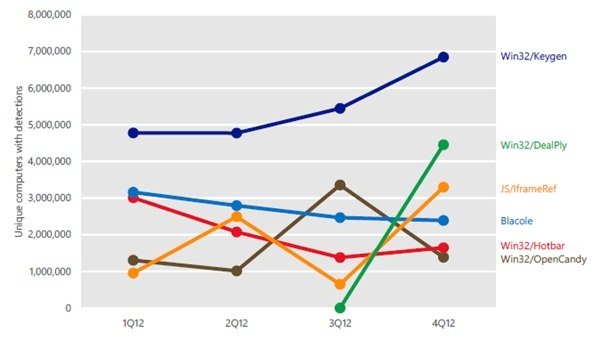 According to the Microsoft, Keygens are responsible for larger number of threats that affect Windows 7 and Windows 8. This seems plausible as many pirate would want licenses for the latest versions of any software or operating system version. The figures mentioned below exhibit the rank of each malware that is harmful to different Windows OS.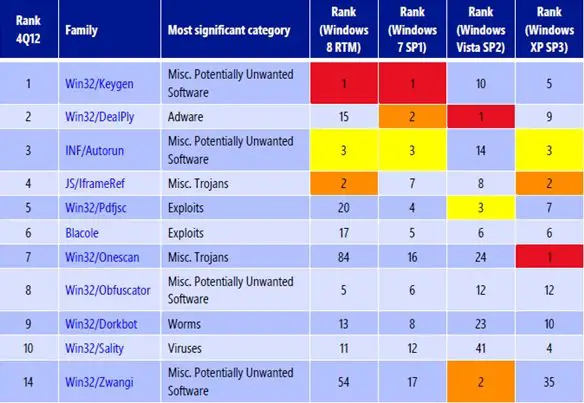 Microsoft suggests few easy-to-follow steps to prevent your computer from malware and infections.
Enable a firewall on your computer
Get the latest computer updates for all your installed software
Use up-to-date antivirus software
Limit user privileges on the computer
Use caution when opening attachments and accepting file transfers
Use caution when clicking on links to webpages
Avoid downloading pirated software
Protect yourself against social engineering attacks
Use strong passwords
You can read more at Tips to secure Windows.