Kingsoft released their popular WPS Office Suite of applications on the Microsoft Store. WPS Office is not only an alternative to Microsoft's Office Suite of applications but also to Google's Office Suite of applications not only on Windows ecosystem but also on Android and iOS platforms. WPS Office is a free alternative to Microsoft Office.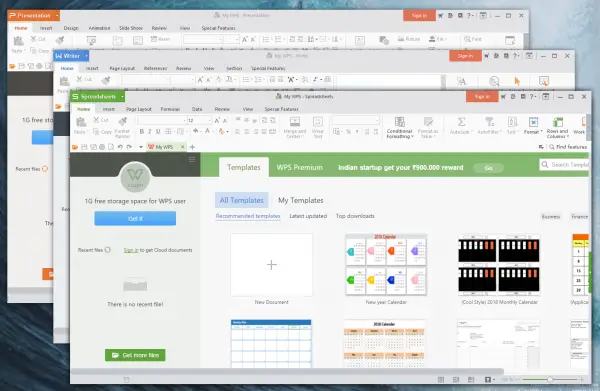 With the release of Windows 10, Microsoft is leaving no stones unturned in attracting developers to bring their apps on to their Windows 10 Platform. This new platform for Windows 10 was first started by supporting a new range of responsive applications called UWP Apps or Universal Windows Platform apps. At first, Microsoft wanted developers to target all the devices in the Windows ecosystem with this UWP platform but later they made it even more flexible by allowing developers to port their iOS apps using a bridge they called Project Islandwood and even their Win32 apps using a bridge called Project Centennial. Microsoft didn't stop here, they allowed publishing of the Win32 Windows Classic Software to the Microsoft Store too, making it the main hub for everything that the user needs.
WPS Office Suite app
In this suite of applications, you will get WPS Presentation, WPS Writer as well as WPS Spreadsheets. This will perfectly take care of all your basic needs. You will get a Presentation maker, Document Editor as well as a Spreadsheets manager in this package.
These applications will support file formats meant for Microsoft Office as well as OpenOffice Applications. Additionally, it can also help you edit PDF files directly on WPS Writer. It has all the formatting tools that you expect when you compare it to other products from both Microsoft and OpenOffice. Also, it contains the support for online templates, an ability to track changes on a document and add comments on it.
By making a use of tabbed interfaces, it helps you keep your work organized in such a way that other competitors do not support these features.
You can try out the latest version of WPS Office on Microsoft Store by following the link here.
Some more features are available for the users who buy a Premium Subscription. You can get some additional templates and additional 1GB of cloud storage for the documents.