Microsoft and Disney have announced that bunch of Disney video games are available for free to Windows Phone users for a limited time. Its a limited time offer. These 9 popular Disney games for Windows Phone made free until June 17.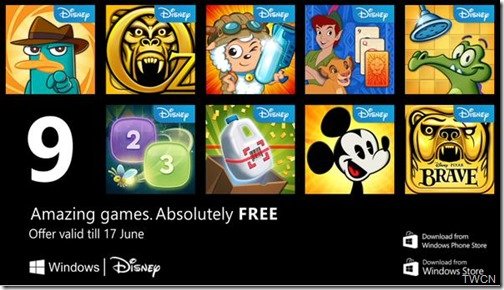 Microsoft announced :
Continuing our tradition of rewarding loyal Lumia owners, Microsoft and Disney are giving away an exciting range of games worth more than $17 (or the equivalent value in local currency) through June 17.
Free Disney Games for Windows Phone:
So Windows Phone users can download these 9 Disney games for free:
1] Temple Run: Oz (free, normally $1.99)
The most thrilling running experience now comes to the yellow brick road! Reached No. 1 across the globe within hours of launch! Check out all the lands of OZ from Emerald City to the Dark Forrest and see what critics are saying about Temple Run: Oz
2] Temple Run: Brave (free, normally $1.99)
Join Merida from Disney/Pixar Brave as you run, slide, jump, turn and shoot your way across the wilds of Scotland on an endless running adventure!
3] Where's My Perry? (free, normally $2.99)
4] Where's My Water? (free, normally $1.99)
5] Disney Solitaire (free, normally $1.99)
Play a challenging solitaire adventure game against the backdrop of timeless Disney classics in Disney Solitaire!
6] "Where's My Water?" Featuring XYY (free, normally $1.99)
7] Lost Light (free, normally $1.99)
8] Disney Checkout Challenge (free, normally $0.99)
9] Where's My Mickey? (Free, normally $1.99)
As you can see these include popular games like Temple Run, Disney Solitaire etc. So hurry up and head over to Windows Phone Store and download them before the offer expires.