LinkedIn has been refreshing its UI regularly but not much had changed when it comes to their desktop design. Recently the company has announced a complete design overhaul that aims at delivering a thoughtful and simplified approach in order to achieve an intuitive and faster UI which will help users.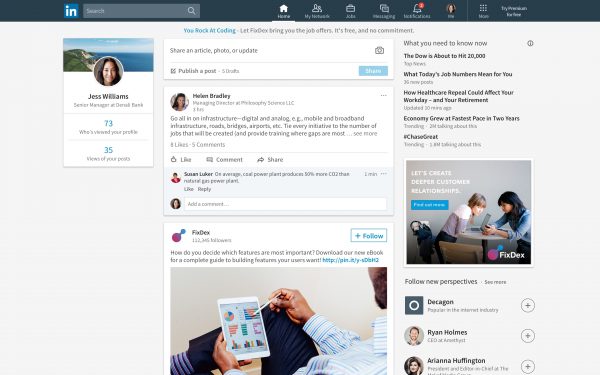 LinkedIn desktop redesigned
Take a look at the new features!
Intuitive and Faster
The new interface is simplified in design and navigation and the experience is touted to be uniform across all the platforms including mobile and desktop. Refreshed design is based on a single-page application which in turn makes way for an application to an experience which is smooth and fast. Transitions will also be much more seamless as the design doesn't require full page reloads unlike the run of the mill websites.
Since the technology stack shares the same front-end API's as the LinkedIn mobile app and allows the release of new code three times a day this will allow ushering in new innovations in a much fast manner across platforms.
Streamlined Navigation
This is one thing I hated about LinkedIn the navigation was sluggish and the UX was way below expectations. The new navigation, however, boasts of seven core areas including, Home, Messaging, Jobs, Notifications, Me, My Network, and Search. Users can also launch other experiences by clicking more icon on the navigation bar.
Better Suggestions and Feeds
LinkedIn will start serving updates in order to help you connect with the next opportunity. For instance, if you see a new opportunity then LinkedIn will suggest you, someone, you know who works at the company. Also, with new algorithms in tandem with human editors, LinkedIn will tailor your feed to beam the most relevant content from your industries and will also be devising a way through which one could simply dive deep into topics of interest.
Insights in who is viewing your content
Users can now see who is reading and sharing the content that they publish and details including the company, job title, and location of the people who are interested. The update also includes an improved profile suggestion that suggests you on how to fine tune your profile and pick up relevant skills.
LinkedIn has also taken into consideration the feedback received from the recent mobile app launch and thus it has decided to make it, even more, easier for the professionals to instantly gain access to their conversations, details and also opportunities. This is, in fact, a big leap since most of us used to use a desktop in order to access LinkedIn.