LinkedIn aims to create an environment where people with a criminal record have equal access to job opportunities. LinkedIn is already making it possible by rolling out a new job filter called LinkedIn Fair Chance.
This will help LinkedIn users discover employers who are considering applicants with a criminal record. In addition to LinkedIn being a job discovery platform, it's also a professional social network where people across different industries connect and discuss ideas. This probably makes LinkedIn a first of its kind online platform to provide such a job discovery filter. Here's what LinkedIn wants to achieve by introducing the Fair Chance filter.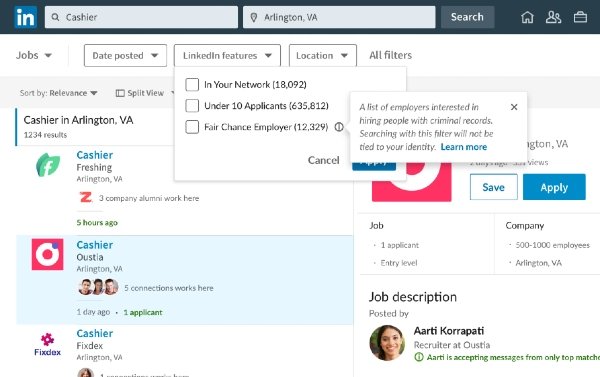 LinkedIn rolls out Fair Chance job filter
Many individuals with a criminal record often struggle at discovering job opportunities and it further creates a serious roadblock between their job-hunting process. LinkedIn is looking to address and reduce this barrier individuals face while identifying job opportunities on its platform.
LinkedIn says there are more than 70 million people with a criminal record in the US alone. These users can now benefit from the Fair Chance filter to reenter the workforce.
Meg Garlinghouse, Head of Social Impact at LinkedIn, had this to say in her blog post:
"Through our products, we are also focused on building features that reduce barriers to a productive and successful career and help our members build stronger networks."

"That's why we're excited to roll out a new "Fair Chance"' job filter to help job-seekers easily identify employers who have committed to consider applicants with a criminal record, thus removing a major barrier from their job search process."
The 'Fair Chance' job filter is currently limited to LinkedIn web users in the US. Meanwhile, LinkedIn says that it will soon become available on their mobile apps for Android and iOS.
Previously, LinkedIn's Social Impact team introduced a program called LinkedIn Coches. It helps users identify job opportunities and expand their professional networks through career conversations. LinkedIn Coaches program also helps users learn new skills with the help of LinkedIn Training.