Microsoft has recently launched the Lumia 830 and the Lumia 735 in Malaysia. The Lumia 830 being an affordable flagship device priced at RM1399 ($430) and the Lumia 735 being popular as the selfie phone available for RM999 ($305) will probably grab the attention of numerous Lumia lovers. In order to influence its customer the Redmond-based giant has strategically planned to offer its Office 365 Home premium for free to the first 500 Lumia 830 buyers.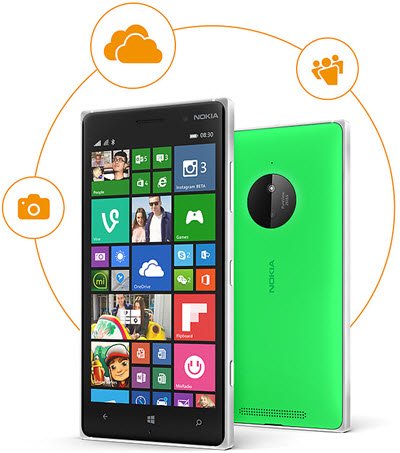 Lumia 830
Lumia 830 features a 5-inch IPS HD720 display and is powered by a 1.2GHz Quad-core processor, 1GB of RAM, 16GB of internal storage that is expandable up to 128GB via microSD, and a 2,200 mAh battery. Additionally, the smartphone comes with a 10MP PureView rear camera enhanced with OIS (Optical Image Stabilisation) & ZEISS optics, a 0.9MP front-facing camera, support for WI-Fi, Bluetooth 4.0 and 4G LTE network.
Lumia 735
On the other hand, the 4.7-inch Lumia 735 sports a 720p OLED display, a 1.2GHz Quad-Core Snapdragon 400 processor, 1GB of RAM and a 8GB of internal storage which is also expandable up to 128GB via microSD alike the Lumia 830. Further, it incorporates a 5MP f/2.4 front-facing full HD camera for the selfie shots along with various standout features (like makeup and filters) to take great selfies, a 6.7MP rear camera boosted with the ZEISS optics, support for Bluetooth v 4.0, Wi-Fi & 4G LTE network, and a 2,200mAh battery.
Both the devices run Windows Phone 8.1 and come with the latest Lumia denim update which will allow its users to shoot 1080p-quality videos out of the box.
The two smartphones will hit the Malaysian stores on October 3rd, so the interested customers can buy either from the available online as well as offline retailers. As per the latest reports, the launch of the devices in not just confined to Malaysia rather the Lumia 735 will be made available in the UK from October 2nd while the Lumia 830 will land Singapore this Saturday.