MetaDefender is an Advanced Threat Prevention Platform for preventing and detecting cybersecurity threats on multiple data channels. Microsoft has partnered with  OPSWAT's MetaDefender and made it available for on-premises and hybrid cloud Internet Content Adaptation Protocol (ICAP) scanning. While there is a lot of push for cloud-based infrastructure, the reality is that many companies choose for Hybrid Platform.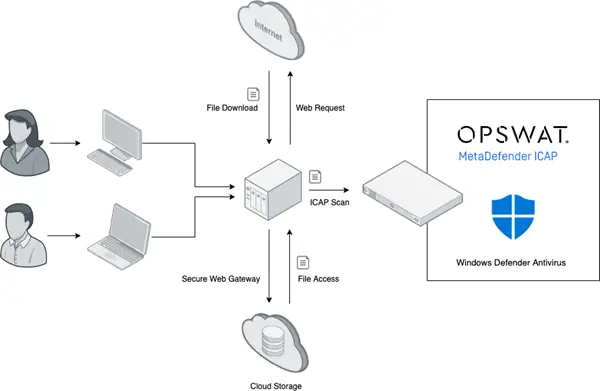 MetaDefender & Windows Defender Antivirus partner
Like I was saying that many organizations need a hybrid security solution. Using this partnership, companies can ensure the security of local components, such as large network storage arrays, and also work with EMC solutions utilizing the Celerra AntiVirus Agent (CAVA).
Leveraging OPSWAT MetaDefender support for both ICAP file submission for scanning and REST-based submission, customers requiring scanning for large local storage arrays or cloud storage arrays can now utilize the industry-leading antivirus engine in Windows Defender Antivirus.
What is ICAP AV scanning
ICAP is a lightweight HTTP-based RPC protocol designed to offload processing of Internet-based content to dedicated servers. It offloads heavy work to online servers, increasing network throughput.
What is REST AV scanning submission?
REST AV scanning allows load management to be efficiently controlled with simple load balancing mechanisms between servers.
How does it help the Hybrid Environment
It lowers down the amount of processing required to scan. So if you have large arrays like storage, network appliances, and cloud-based storage, all that can be scanned much faster.
Existing OPSWAT MetaDefender customer can still get the benefit
If you are already using it, all you need to do is add Windows Defender Antivirus as a component in your scanning package on the MetaDefender console
You can read more about it on Microsoft.com.