Microsoft witnessed higher-than-expected quarterly revenue, helped by stronger sales of its smartphones, Surface tablets and more importantly cloud-computing products for companies. The company also succeeded in keeping its profit margins largely intact. The performance is striking since other tech stalwarts, such as IBM Corp. in the lineup reported weak earnings for the last quarter.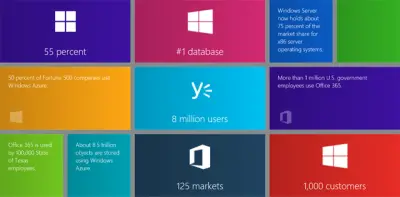 "In light of recent negative earnings results from tech bellwethers Oracle, IBM, SAP, VMware, and EMC, Microsoft is bucking the trend and we would label these September results as a solid accomplishment," said Daniel Ives, an analyst at FBR Capital Markets.
Microsoft Quarterly Revenue for July-Aug-Sept 2014
We know, Microsoft primarily makes money (in large part) from sales of traditional software for businesses and home computers. But its CEO has a different point of view. He strongly believes that traditional software has an uncertain future, as people buy fewer personal computers and businesses switch to software that can be accessed online, instead of installing programs on individual machines. As such, mobile and cloud services become critical to the company's future. Tilting business to cloud computing and other such related products could bring rich dividends.
Apparently, this strategy has worked. Revenue from cloud services, including software delivered over the Internet, more than doubled last quarter for Microsoft. The tech-giant did not disclose its cloud-based revenue for the fiscal first quarter, but said commercial cloud sales rose 128 percent, while sales of services based on its Azure cloud platform rose 121 percent.
In all, the numbers show Microsoft's business is shifting: Its mobile phone segment has shown modest growth. Sales of Surface tablets and Xbox gaming consoles have zoomed up. But growth has been nearly marginal or declining in the traditional business software division. On the other hand, the company also acknowledged a dip in licensing revenue for consumer software, including its Windows operating system for personal computers. Some success can also be attributed to the restructuring plan, launched in July, to cut 18,000 jobs, or about 14 percent of its workforce.