Microsoft announced yesterday that it is making Outlook.com more intelligent with the help of new Artificial Intelligence powered features. The company said that it would roll out new features in the next few weeks across email and calendar that will help users save time and boost productivity at work.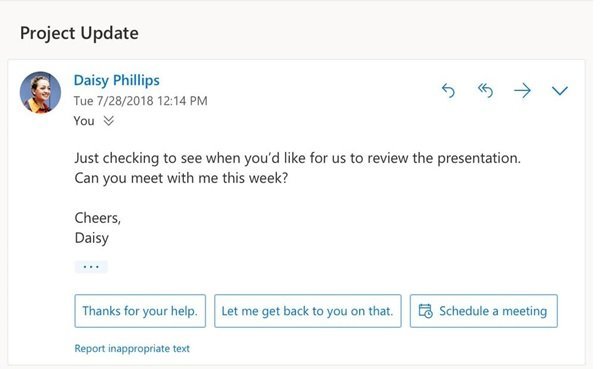 Microsoft Outlook gets AI-based features
Microsoft Outlook product manager Gabriel Valdez Malpartida wrote in a blog post,
"You've heard Office has been adding intelligent technology across the suite to help you stay ahead of threats and keep you in the flow of work. We've also been working in Outlook to deliver intelligence that will help you stay organized and get things done.
First on Microsoft's list is Meeting Insights.
The Meeting Insights feature in Outlook taps Microsoft Graph, a developer platform that connects multiple services, devices, and products across Windows, Office 365, and Azure. It pulls out potentially relevant documents and notes that an Outlook requires during the meeting. Post-meeting, it will organize files shared in emails, SharePoint, and OneDrive as well, along with messages exchanged about the meeting and content shared both during and afterward.
"We aim to bring you features that will make a difference, so some of these features will show up only in Outlook on the web while we gather data on them and evaluate whether to bring them to other Outlook endpoints. We hope these features help you save time and get things done faster, added Malpartida."
Second feature is Suggested Replies which is an extension of Outlook's existing suggested replies feature. When you receive a message in the email that can be answered with a short response, Outlook suggests three responses that you can use to reply with a couple of clicks.
If one of the suggestions works for you, select it, and then select "Send". Microsoft is also inviting feedback about the suggestions in case you think that there can be better replies. To share your feedback, select Report inappropriate text.
Third, in the list is Smart time suggestions that advocate the use of FindTime features and let your attendees vote on the best time, or you could use the scheduling assistant and look for a time that works for everyone. Hence, Outlook will suggest days and times when attendees are free to meet, freeing you from the tedious task of going through attendees free/busy schedules.
The last feature on the list is Suggest locations that facilitate faster meetings by suggesting meeting locations. It serves up meeting spots such as conference rooms, cafes, along with details like addresses, hours, and contact information.