Microsoft Translator has done an incredible job when it comes to translating between languages. Today, Microsoft India has announced the addition of five Indian languages to help those in need. The languages include Gujarati, Marathi, Kannada, Malayalam, and Punjabi.
5 Indian languages added to Microsoft Translator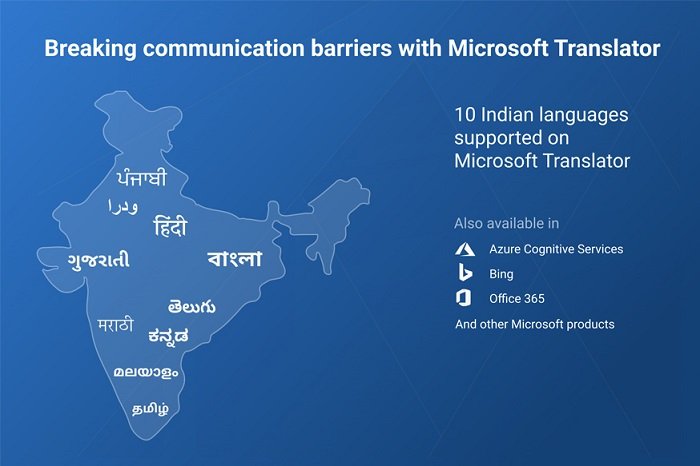 Microsoft Translator is using Artificial Intelligence and Deep Neural Networks for real-time translation across 10 Indian languages in all. The addition of these languages increases the support to ten different languages to the translator allowing businesses across the country to communicate with each other, and globally. The other languages include Bengali, Hindi, Tamil, Telugu, and Urdu. The app is available on Android, iOS, and Windows. The company is also planning to roll out the support for these languages in the Microsoft Office 365 and the Swiftkey keyboard.
Taking one step further, those who are into the need of this all the time can integrate their application using the Microsoft Translator API, which is powered by Azure. It will enable businesses to add multi-language support, including e-content translation, e-commerce product catalogs, product documentation, and internal communication, among others. Sundar Srinivasan, General Manager, Microsoft India (R&D) Pvt. Ltd., said.
We're committed to empower every Indian and every business in India by bringing the power of AI into their daily life. Microsoft celebrates the diversity of languages in India and wants to make the vast internet even more accessible. We have supported Indian languages in computing for over two decades, and more recently have made significant strides on machine translation across languages. With this release, we are bringing in cutting edge machine learning tech to democratize access to information for everyone in India.
Microsoft had been into translation for a very long time, which initially started with SMT (Statistical Machine Translation). According to the company, while SMT is limited to translating a word within the local context of a few surrounding words, Deep Neural Networks does better. It has the capability of encoding more granular concepts like gender (feminine, masculine, neutral), politeness level (slang, casual, written, formal), and type of word (verb, noun, adjective). Microsoft also announced support for email addresses in multiple Indian languages across most of its email apps and services.