In an attempt to bridge the digital divide and bring affordable Internet access to underserved markets around the world, Microsoft rolled out 'Affordable Access Initiative'. The company firmly believes, affordability is a key pathway to expanded broadband access. As such, the problem of affordable Internet access deserves attention.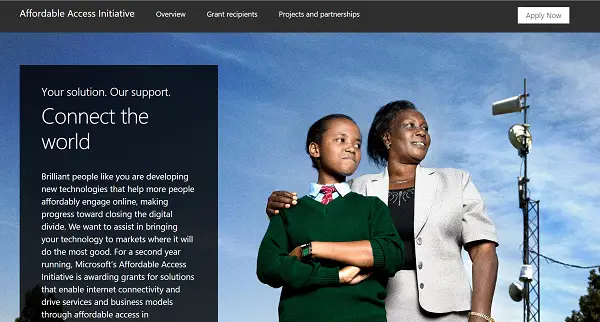 Microsoft Affordable Access Initiative
A more in-depth look at affordability concept revealed most of the world is not connected to the Internet, especially rural areas and economically disadvantaged communities. With the adoption of technology, around 3.9 billion people could be empowered with the digital economy. It is in this regard, Microsoft for a second year has announced Affordable Access Initiative to award grants for solutions that enable Internet connectivity and cloud-based services in fields such as health, education, agriculture and more.
The step is intended to make progress toward closing the digital divide.
Brilliant people like you are developing new technologies that help more people affordably engage online, making progress toward closing the digital divide. We want to assist in bringing your technology to markets where it will do the most good. For a second year running, Microsoft's Affordable Access Initiative is awarding grants for solutions that enable internet connectivity and drive services and business models through affordable access in undeserved communities, mentions Microsoft.
The initiative is a solo effort from Microsoft Philanthropies which attempts to bring benefits of technology to those who need them most. Businesses interested in applying for this year's grants may file the application by visiting the link above and check the list of criteria alongside.
The second round of grant is open to any commercial organization which has two or more full-time employees.