Microsoft showed off world's first Always Connected PCs from ASUS and HP in Hawaii this Tuesday. Terry Myerson, Microsoft Executive Vice President of the Windows and Devices Group unveiled the PCs.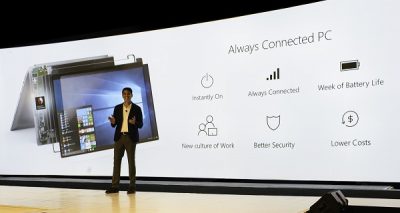 Myerson said,
"Today, at the Qualcomm Snapdragon Tech Summit, I stood with Cristiano Amon, President of Qualcomm Chips, and we delivered on the promise that we made then. Along with our hardware partners HP and ASUS, we showed the world the first full-featured Always Connected PCs on the Qualcomm Snapdragon chipset running Windows 10 and a new, optimized version of Office 365. ASUS and HP have worked hand in hand with us to deliver on pushing the boundaries of what a PC can do, and we continue to work closely with Lenovo as they build their own Always Connected PC".
So after bringing the technologies like face detection, cloud storage, screen detached from keyboards, touch navigations, mixed reality and much more, Microsoft is now out with this revolutionary technology names 'Always Connected' PCs. The PCs which can start instantly and are always connected to a remarkable battery life.
Always Connected PCs
Powered by Qualcomm's Snapdragon 835 SoC and ARM architecture, these laptops reportedly boast a battery life longer than x86 PCs and also offer a built-in LTE connectivity.
With a beautiful design and ultrathin body, these PCs will certainly outshine the other running PCs in the market. The PCs are just always ON, and the screen turns on instantly as soon as you pick it up. Yes, they never go to sleep. So, no matter where you are and what you are doing, you are always connected to your PC and this is something really incredible. These are the Windows 10 devices with Windows Hello, touch, pen and Ink and much more.
Next comes the amazing feature, a week of battery life. This is something you will not get in any other PC available in the market currently.
Talking about the liberated battery life Myerson says,
"For the last few months, I have been using an Always Connected PC, running on Qualcomm's Snapdragon platform. In the last week, I watched the movie Moana with my daughter, worked in PowerPoint, browsed the web every day, reviewed budgets in Excel, checked email while waiting to pick up my son from soccer, marked up a few PDFs with Ink, played some games on the plane – all of this without plugging in my power cord all week".
Watch the video to know more about the Always Connected PCs
https://www.youtube.com/watch?v=Rd7R9G1An3s
Other notable features of the 'Always Connected' PCs include a new work culture, better security, and lightning fast speed. The revolutionary machines will be made available for sale sometime early next year. Stay tuned to the official web page to know more.