Collective efforts of Microsoft Corp. and social networking giant, Facebook will see the development of global cloud infrastructure soon. The duo has announced their plans for building a new, state-of-the-art subsea cable across the Atlantic, named MAREA.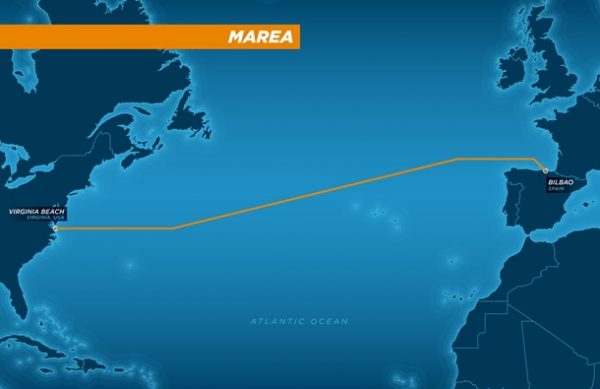 Facebook & Microsoft to lay underwater cable
The giant underwater cable will stretch over a long distance of nearly 6,600 kilometers (from Virginia to Bilbao, Spain) to enable fast and speedy communication. The network will provide up to 160 terabits per second of bandwidth, believed to be 16 million times the bandwidth of home Internet connection. More importantly, the communication infrastructure will allow the two partners to move large bits of information between the many computer data centers more efficiently.
Taking a step to improve the resiliency of the Internet infrastructure was something we saw as a positive for the entire global network, and a positive for people who rely on their digital devices for so many aspects of their daily lives.
If completed successfully, the MAREA transatlantic cable will provide new, low-latency connectivity to meet the increasing demand for higher-speed capacity across the Atlantic. In addition to this, it will become the highest-capacity subsea cable to ever cross the Atlantic.
It is believed that MAREA will be managed by Telxius Cable, Telefónica's new telecommunications infrastructure company. The move appears to be a befitting reply to Google, who in August 2014 had penned a deal with five Asian telecom companies to build an undersea cable, "Faster," running from the US to Japan. It was designed to carry 60 terabits of data per second with an estimated cost of $300 million.
Considering the fact these tech giants are laying their own cables—at their own expense, shows how much of financial resources they have at their command. Construction of MAREA will begin in August be complete in October 2017.