Microsoft has announced that it has concluded a licensing agreement with Taiwan-based Compal, one of the world's largest Original Design Manufacturers, which makes Android-based devices like tablets, mobile phones, e-readers,etc.
Together with the license agreements signed in the past few months with Wistron and Quanta Computer, today's agreement with Compal means more than half of the world's ODM industry for Android and Chrome devices is now under license to Microsoft's patent portfolio," said Horacio Gutierrez, corporate vice president and deputy general counsel, Intellectual Property Group at Microsoft.  "We are proud of the continued success of our licensing program in resolving IP issues surrounding Android and Chrome."
Microsoft has been making similar progress too with the  Original Equipment Manufacturers, who produce Android devices under their own brands. Following the agreement earlier this month with Samsung, Microsoft now has license agreements in place with OEMs that account for 53 percent of all Android smartphones in the United States.
Microsoft and Apple, both have been accusing Android smart phone makers, of having stolen their products. This diagram by Microsoft shows how the Microsoft and Apple have been pursuing their legal claims against Android.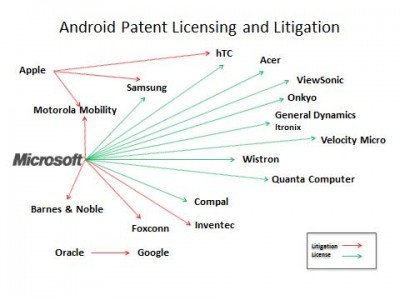 Since Microsoft launched its IP licensing program in December 2003, it has signed such licensing agreements with over 700 companies.