It's been a very long time since Microsoft released a new version of Windows Media Player, but that is about to change. The company, in the past, was focusing primarily on individual apps instead of a single tool that is capable of handling all forms of media.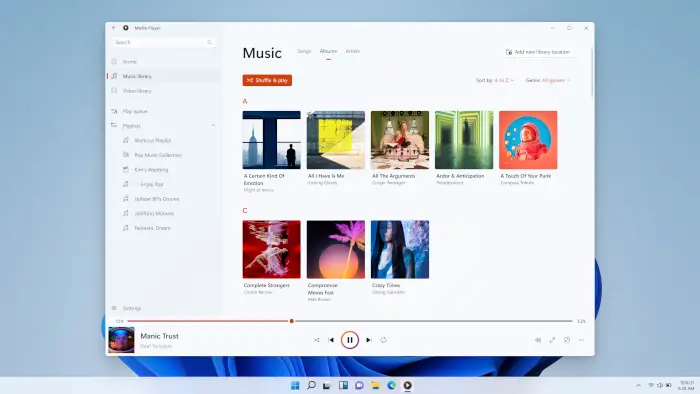 Windows 11 to get a cool new Windows Media Player
For example, we have Groove Music for listening to music, podcasts, etc. Outside of that, there's the Video app for watching movies, TV shows, among other video-based content. Windows Media Player, then, was left in its classic state for anyone who still wanted to use it.
Now, it would appear that Microsoft has changed its tune after a recent blog post. The company says it is rolling out the new Media Player for Windows 11 for Windows Insiders in the Dev Channel.
"We designed the new Media Player to make listening to and watching your multimedia content more enjoyable on Windows 11, and we're really excited to introduce it to all of you! Media Player beautifully showcases your local music and video collections and compliments the new look and feel of Windows 11," says Microsoft.
From the photos we've seen, it's safe to say the new Windows Media Player app for Windows 11 looks intriguing. There are still elements of the old version, but overall, this is something new with the plan of allowing Windows 11 users to playback their media content without problems just as before.
Microsoft confirmed that folks who still prefer to use the legacy version of Windows Media Player will have no problems gaining access to it in the future. This is because it will continue to be available in Windows Tools.
Are there any issues?
Well, the app is unable to playback content from network locations, but you shouldn't worry because Microsoft is aware of this problem. Furthermore, there are impacts to sorting library content with accented characters, editing album metadata, and user interface elements that do not respect your theme preference.
Future updates will no doubt solve the above problems. However, if you're not the type of person who likes living on the edge, then we suggest waiting on the official public release.