Microsoft Convergence 2015 saw a lot of new announcements made by the software giant. On this occasion, Microsoft CEO Satya Nadella made an important announcement, which was disclosure of Azure Internet of Things suite. Microsoft mentions that the Azure IoT suite will improve efficiency of the business, enable innovation and transform the business.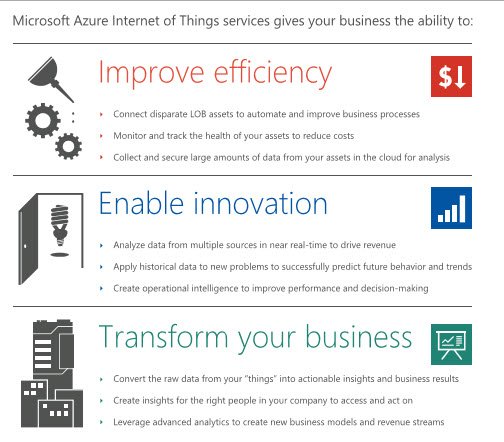 Azure Internet of Things Suite
Basically, IoT or Internet of Things, is a setting in which various physical things or objects are embedded with sensors, electronic components and software with the help of which, they can transfer data over a network without human interference.
On the similar line, the Azure Internet of Things Suite is an integrated service that makes use of all the relevant Azure capabilities to connect devices. The suite also captures the huge and varied data these devices generate. The Azure Internet of Things Suite integrates and organizes the flow of this data, manages it, analyses it and presents it in a format that helps humans to take appropriate decisions. This highly analyzed and managed data also helps in automation of various processes and operations.
Microsoft announces on the MSDN blog,
"Improving efficiencies, enabling innovation and fueling transformation are the cornerstones of Microsoft's vision for the digital business. With Microsoft Azure IoT services, you can monitor assets to improve efficiencies, drive operational performance to enable innovation, and leverage advanced data analytics to transform your company with new business models and revenue streams."
Various services included in Azure Internet of Things suite
Here is a list of services included in the Azure IoT suite:
Azure Event Hubs
Azure DocumentDB
Azure Stream Analytics
Azure Notification Hubs
Azure Machine Learning
Azure HDInsight
Microsoft Power BI
Microsoft is certain that the Azure Internet of Things Suite will provide a simple and a predictable pricing model to the businesses; despite of having various capabilities and broad scenarios it delivers. The IoT suite will help the businesses to plan and decide on budget suitably.
Read more about these services on the MSDN blog on the Azure IoT suite.