With the power of their Azure cloud services, Microsoft is aiming to build a great secured platform for the businesses based on the cloud. Today, Microsoft announced two new security offerings which are powered by their cloud services – Microsoft Azure Sentinel and Microsoft Threat Experts.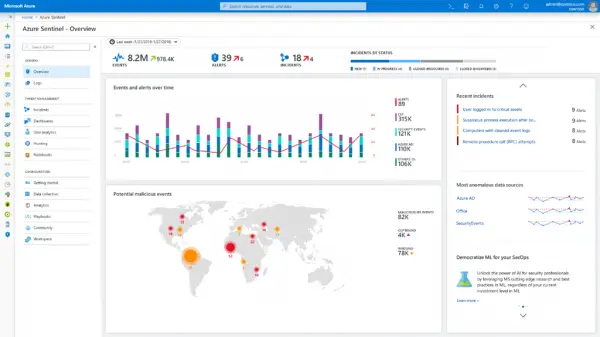 Azure Sentinel and Threat Experts
Microsoft Azure Sentinel
A new and native Security Information and Event Management (SIEM) tool which is built under Microsoft Azure. It will enable the SecOps teams at a company to monitor and stop threats before they get active and cause any sorts of harm to the intended organization. Microsoft has also embedded AI into the service to clear any false noise, and with this, Microsoft is claiming to get the alert fatigue lower than 90 percent. If wanted, the SecOps team can also bring their Microsoft Office 365 data to Azure Sentinel for free, and it can even be combined with other security data for analysis.
"Azure Sentinel provides a proactive and responsive cloud-native SIEM that will help customers simplify their security operations and scale as they grow -Richard Diver, Cloud Security Architect, Insight Enterprises".
Microsoft Threat Experts
This new service is embedded within the Windows Defender Advanced Threat Protection functionality. It will offer managed hunting to extend the capability of the security operations center team.
https://www.youtube.com/watch?v=hMYOb81kDYE
Microsoft Threat Experts enables SOCs to jump-start threat investigations by providing context-rich intelligence. This release of the service includes two capabilities:
1] Targeted attack notifications: Alerts that are tailored to organizations provide as much information as can be quickly delivered to bring attention to critical threats in their network, including the timeline, scope of the breach, and the methods of intrusion.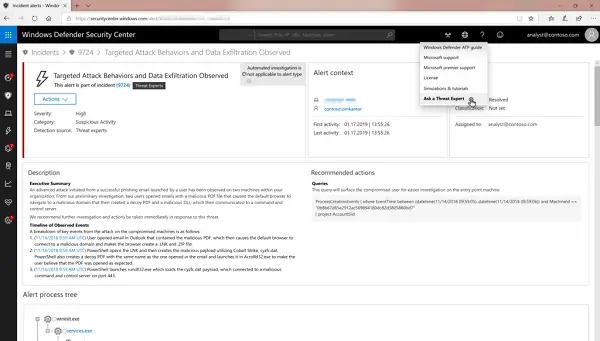 2] Experts on demand: When a threat exceeds the SOC's capability to investigate, or when more actionable information is needed, security experts provide technical consultation on relevant detections and adversaries. In cases where a full incident response becomes necessary, seamless transition to Microsoft incident response (IR) services are available.
If you want, you can get your hands on this industry-leading optics and detection capabilities by signing up for a free trial. You can learn more about Microsoft Azure Sentenial and Microsoft Threat Experts here and here