Announced back in August 1 2013, the Message Center is now getting some new features, improving its functionality. Microsoft outlined the newly added features in an announcement yesterday.
Message Center is an in-product experience that complements the service alert emails that administrators currently receive to help keep customers up to speed on critical communications. Message center goes beyond the information provided in service alert emails, including information about new features coming to the service.
Office 365 Message Center
Microsoft created the Message Center to improve their communications with potential customers and to announce the changes and updates in Office 365 suite. The team has been working on improving the functionality and usability of Message Center Over the past two years since the release of Office 365 and has now come up with two useful updates and enhancements.
Message Center is now being included in the service overview dashboard of admin landing page. This feature is however, available for the enterprise customers only but will improve its visibility significantly. Geared basically towards the IT professionals, Message Center is the best mode to inform Office 365 admins about new features and actions of Office 365 and help them run the service smoothly.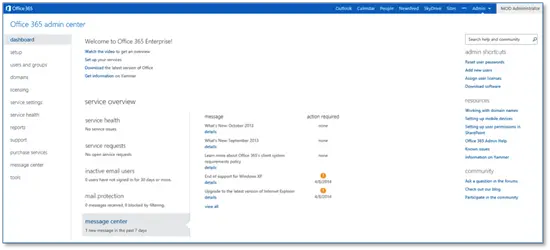 Office 365 admins will now receive the messages in Message Center instead of inbox. This feature will help the admins access urgent messages more conveniently. The messages in Message Center will also include the detailed information on the service updates. 

The Message Center in Office 365 is yet another addition to the list of the latest features found in Office 365. It serves as an alert for the changes and updates in Office 365. This is a new feature in the admin for communication purpose. Administrators will be informed about the new updates and changes in Office 365 though Message Center.