Microsoft announced its new range of enterprise products and services to support organizations in meeting their cloud computing requirements and overcome challenges, prevailing in the IT industry.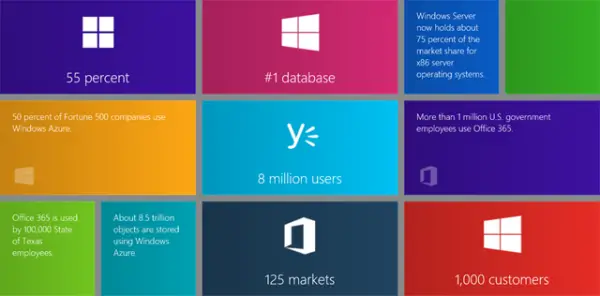 Microsoft's Executive Vice President – Cloud and Enterprise, Satya Nadella said that as more and more organizations are inclined towards cloud, they are bound to count on vendors who offer world-class SAAS applications which have the capability to operate on a global cloud service. He further said,
"This global public cloud supports a broad ecosystem of third party services, and deliver multi-cloud mobility through true hybrid solutions. If you look across the vendor landscape, you can see that only Microsoft is truly delivering in all of those areas."
Hybrid Cloud and modern applications
On Oct. 18, Microsoft will launch Windows Server 2012 R2 along with System Center 2012 R2 and both these products will enable organizations to construct huge data centres, with unlimited capacity, with the help of Hyper-V, which will support high-scale virtualization and cost-efficient data storage. Both companies and service providers will be able to easily deliver self-service infrastructure, with the help of Windows Azure pack, running on top of the server. Also,available on Oct. 18th will be .NET 4.5.1 and Visual Studio 2013, which can also be used to build modern applications on these hybrid cloud platforms.
Enterprise cloud implementation support
Along with providing discounts on Windows Azure, Microsoft will also offer the Enterprise Agreement (EA) customer access on Nov. 1. Another effort towards cloud adoption is Microsoft's strategic alliance with Equinix Inc., which will ensure in supporting customers with more effective options for private and efficient cloud connections.
Data platform and insights
Working towards its vision to provide maximum insights on big data, Microsoft will be launching the second preview of SQL Server 2014 in the next week. This dynamic new version offers to performance enhancement by 10-30 times and gives the customers an in-built cloud backup and disaster recovery option, when working with Windows Azure. Another release by Microsoft would be the Apache Hadoop-based service, Windows Azure HDInsight, which will work with SQL Server and other BI tools, delivering excellent Big Data Analytics.
Cloud Security
With the release of Windows Intune on Oct. 18, enterprises can combine it with their System Center Configuration Manager, to enable their IT departments give enhanced security access to all applications running and data saved on Windows, Andriod or iOS devices. Also, Windows Server 2012 R2 comes with Microsoft Remote Desktop app, which makes it easy to provide easy access for PCs and virtual desktops on any OS or platform, present in the workplace.
Detailed information on Microsoft's Enterprise Cloud Solutions is available here.