Good news for Skype users, as Skype announced today, the new version of Skype on TV – Skype 4.0.  This is a pleasant announcement especially for those who love to make group video calls in order to have a conversation with their family and friends.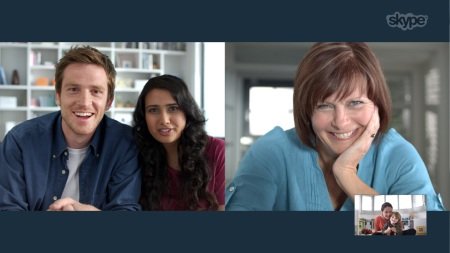 Skype 4.0 on TV
Until now the group video calling feature was limited to phones, tablets and laptops, but now Skype has overcome with this barrier as well by bringing out Skype 4.0 on TV that allow Samsung Smart TVs to connect to the Skype 4.0 and make use of group video calling features with full HD support. One thing to note here is that to make use of this feature, the owner should have Samsung Smart TV with built in camera and fast internet connectivity.
The Skype 4.0 software update is limited to only Samsung Smart TVs right now and only three parties can be added at a time for a group chat. To get Skype 4.0 on your TV you need to go to Samsung Smart TV app store and download Skype 4.0 and enjoy the new features, but before that, make sure that you have all the necessary hardware requirements fulfilled with proper internet connection.
Earlier back in April 2014, Skype had made group calling free for Windows desktop, Mac and Xbox One and later for Windows tablet, but today it's come out with Skype 4.0 on TV. This announcement from Skype will definitely make Skype grow stronger against those companies that are providing such video calling facility through their apps.
So now those who stay away from their love ones can get Samsung Smart TV with HD video support, internet connection and built in camera and can stay connected always with real time conversation.
To manually check if you have any available updates, just press the Menu button on your remote, and select Support > Software Update, then select Update Now, says the blog post.
With Skype 4.0, a larger number of people can chat together as multiple people can be fitted into the frame at a time and can share a device while Skyping. Earlier, only few people can join the Skype video call as the frame size of the webcam that is connected to the personal device was very small. So now just go to Menu button on your remote, select Support and click on Software Update to get the new updated Skype 4.0 on your smart TV and enjoy your video calling.