In the recent past, we all have seen that there is a drastic change in the use of Microsoft devices. When we talk about Windows, almost every second person is on Windows 10 and the number is still increasing. But, the company isn't stopping on increasing Windows users, but also want them to switch to better devices too. One always thinks of better hardware to run any software and Microsoft is always on it. Whether it is a mouse, a monitor, a keyboard, or a sound device, they cover it all.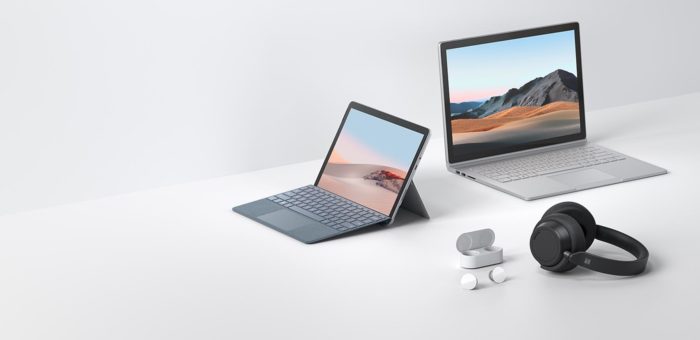 Surface Go 2, Surface Book 3, Surface Earbuds, Surface Headphones 2 announced
Since they started their range of Surface products, its interesting to see how these devices are gaining users' attention. Are you still on the previous versions of Surface devices? Do you want to upgrade to a new one?
The company has introduced all new devices and they are up for preorders from today. These devices include:
Surface Go 2,
Surface Book 3,
Surface Earbuds,
Surface Headphones 2,
Surface Dock 2, and
USB-C Travel Hub.
Surface Book 3 is the company's most powerful laptop they ever built. Designed not only for professionals who need desktop-level performance from anywhere but also for Surface enthusiasts. A powerful workstation with all your hardware needs already covered.
Surface Go 2, the most versatile, light yet a promising device. Delivers incredible value in a light and portable design. Proves to be a great device to be carried by anyone anywhere.
When it comes to great sound experience, the Surface Headphones 2 and Surface Earbuds complete your experience of surface devices. Not only helping you to focus irrespective of your surroundings but also helps you to stay connected.
With the Surface Dock 2 and the multi-port Microsoft USB-C Travel Hub, you can set up the ultimate workspace whenever you need it.
For more information, read Microsoft's official announcement blog post.