Xbox is one of the most successful products from Microsoft, and it is giving a tough competition to Sony's PlayStation. The Xbox Live service also helps gamers on the Xbox to get greater access to games and services. And now, Microsoft has announced the All Digital version of the Xbox One S. They are calling it Xbox One S All Digital Edition. For those who are still wondering, it is just a version of Xbox One S without the disc drive.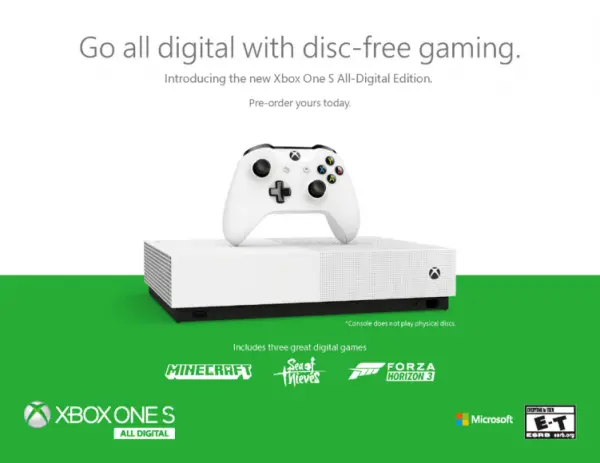 Xbox One S All Digital Edition will be available May 7
This is just the older Xbox One S with a 1 Terabyte storage, 3 games preloaded and a cheaper price tag.
Talking about the preloaded games, you will be getting the following games available to be played are the following,
Forza Horizon 3.
Minecraft.
Sea of Thieves.
Microsoft believes that-
"These critically acclaimed titles are sure to offer something for everyone in the family to enjoy."
You can get access to your favorite games using the Xbox Game Pass. And if you are into movies, you can use Netflix, Amazon Prime, Hulu or others; you can use this player to stream media with 4K HDR.
https://www.youtube.com/watch?v=yBDSMNE3_oQ
This new console will be available with selected retailers worldwide including Microsoft Store, Walmart, Best Buy, and Amazon starting May 7th, 2019. It will be available for $50 lesser than the older Xbox One S at just $249.99 and can be preordered right now.
More details about this announcement are available for your reading pleasure here.