Xbox has been Microsoft's one and only bet on a gaming console and the company is taking the Xbox pretty seriously right from the beginning. Team Xbox has now announced two new Xbox One controller designs which will hit the retail this February 7. The wireless controllers come in two trims, one called the Ocean Shadow and Winter Forces Special Edition. The controllers are meant to pair with both Xbox One and Xbox One S which also support 4K entertainment along with 4K UHD Blu-Ray. Let's take a closer look at both the controllers and what they have to offer,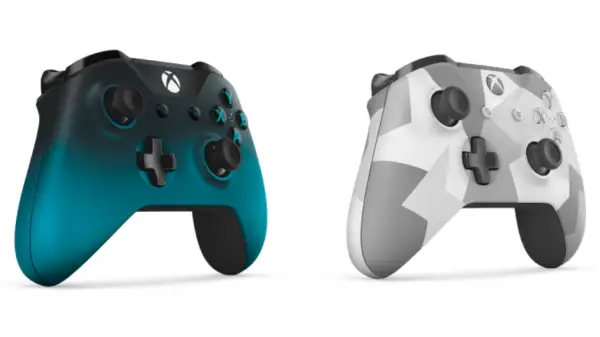 Xbox Wireless Controller Ocean Shadow Special Edition

Team Xbox had introduced the Ocean Shadow and the second gen is slightly evolved in terms of design and ergonomics. The controller comes coated with a sleek matte top case and sides that fade into a light blue metallic finish. The triggers, buttons and the D-pad have a glossy black finish along with light blue highlights in the menu buttons. Overall the shadow effect is visually appealing and looks elegant as well. The Xbox Wireless controller Ocean Shadow will be available from $69.99 at select retailers starting from February 7.
Xbox Wireless Controller- Winter Forces Special Edition


The Winter Forces Special edition is one of the newest addition to the special range and takes a cue from the Armed Forces, Covert Forces and Midnight Forces controllers. I personally love how the camouflage pattern sets the things right without actually appearing overly done. The light and dark gray accents impart a rather striking look along with Xbox One S console. The controller is also priced at $69.99 and will be available at select retail.
That said despite being limited edition controllers both of them still adhere to the ergonomic standards of the Xbox wireless controller which include textured grip, improved wireless range and also a Bluetooth technology for gaming on Windows devices and can also take advantage of custom button mapping feature.