Universal Print is Microsoft's cloud-based printing initiative. This type of cloud printing allows you to take printouts anywhere as long as you have a Universal Print-compatible printer, i.e., it eliminates other auxiliary infrastructure. The requirements for print infrastructure can be greatly reduced if this mode of printing is opted for at scale. While this facility was made available for Windows 365 users a couple of months back, Microsoft's recently announced that they will be integrating it with OneDrive.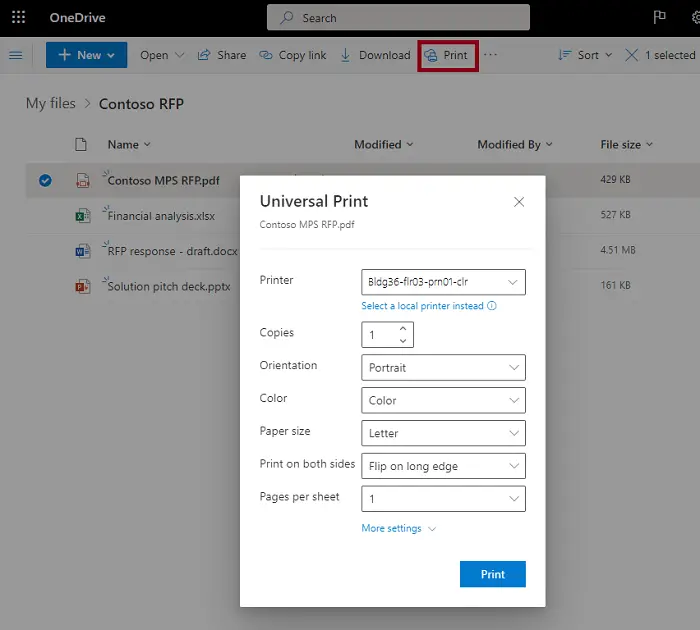 Microsoft Universal Print to be integrated with OneDrive soon
Ordinarily, a user has to install the printer on the device that holds the documents to get the printout. While you may not find that to be a big deal in your house or lowly office space, it can be a ruckus in a big organization where there are multiple devices and several printers, all of which are to be linked. This is the problem that Universal Print seeks to eliminate. Syncing it with OneDrive will allow people to directly print out documents on your OneDrive from any printer without actually installing it on your devices.
Now people across the organization can access a printer in the cloud from anywhere with an internet connection and securely print over Zero Trust Networks without the need for a VPN connection to their organization's network says Microsoft's official blog post.
All that a user would have to do with Universal Print is click on Print and select the printer of their choice with the list of printers not being limited to the ones installed on your device. Users can still choose to print locally and configure their options accordingly. To make this new, advanced printing experience even more wholesome, Microsoft has ensured that Universal Print works the same across all devices.
This feature is expected to roll out sometime this week. The Universal Print initiative supports the most common file types like PDFs, Word documents, Excel sheets, etc. You can read more about it at techcommunity.microsoft.com.