Microsoft has now announced a number of new features that will ship with Windows 10. This first major Windows 10 update of 2019 will be named as Windows 10 May 2019 Update.
Windows 10 May 2019 Update announced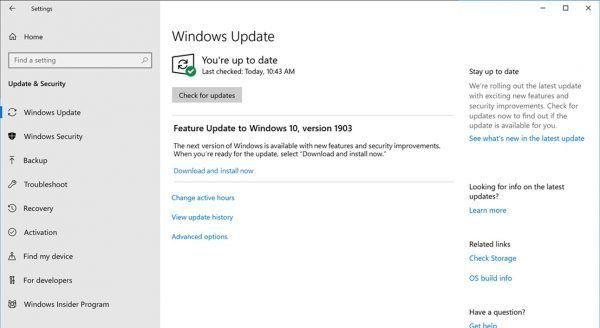 This update will be released to Windows Insiders on the Release Preview ring starting next week. And will be released to the mainstream public starting May 2019. In late May, Microsoft will begin availability for those users on a currently supported version of Windows 10 who seek to update via "Download and install now".  Commercial customers can begin their targeted deployments in late May, which will mark the beginning of the 18-month servicing period for Windows 10, version 1903 in the Semi-Annual Channel.
Mike Fortin, CVP of Windows said – We will begin broader availability in late May for commercial customers, users who choose the new May 2019 Update for their Windows 10 PC via "Check for updates," and customers whose devices are nearing the end of support on a given release.
With the issues shipped to the public initially with Windows 10 October 2018 Update, Microsoft is extensively testing out this release with Windows Insiders across Fast Ring, Slow Ring and the Release Preview Ring before shipping it. By carefully studying data from this expanded population and for this additional time, we will gain increased confidence in Windows quality before offering it to a broader audience later in May.
Updates to Windows Update
Talking about Windows Update, Microsoft is planning to give the users some extra control of when an update is downloaded and installed on a computer. In the announcement, it was mentioned that Extended ability to pause updates for both feature and monthly updates.
1] This ability is for all editions of Windows 10, including Home. Based on user feedback we know that any update can come at an inconvenient time, such as when a PC is needed for a big presentation. So, we're making it possible for all users to pause both feature and monthly updates for up to 35 days. Once the 35-day pause period is reached, users will need to update their device before pausing again.
2] Intelligent active hours to avoid disruptive update restarts. The active hour's feature, introduced in the Windows 10 Anniversary Update, relies on a manually configured time range to avoid automatically installing updates and rebooting. Many users leave the active hours setting at its 8 a.m. – 5 p.m. default. To further enhance active hours, users will now have the option to let Windows Update intelligently adjust active hours based on their device-specific usage patterns.
3] Improved update orchestration to improve system responsiveness. This feature will improve system performance by intelligently coordinating Windows updates and Microsoft Store updates, so they occur when users are away from their devices to minimize disruptions.
You can learn more about these announcements and some more feedback related announcements on Windows Blogs.