Looking to empower Firstline workers with the latest technology, Microsoft is bringing Windows 10 S devices claiming that they are the best suited, more secure, customizable and easy to manage for the said working class.
Firstline Workers are the people who serve as the first point of contact between an organization and its customers or products. A critical part of empowering this workforce is providing custom technology experiences and streamlined, secure devices that help them get their work done and build skills, explained Microsoft.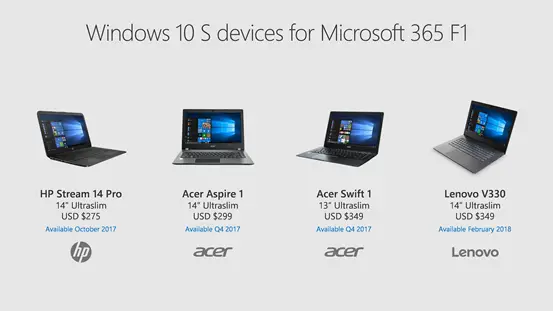 Microsoft 365 F1 Enterprise
Another for Firstline workers, Microsoft also announced Microsoft 365 F1 Enterprise plan for organizations. The new plan comes with additional functionalities that allow businesses to manage and train their employees easily, and allow easy access for their Firstline force to productivity and collaboration tools.
At the Ignite conference held in Redmond, Microsoft unveiled four new Windows 10 S devices all targeted at "Firstline Workers".
Windows 10 S devices – Availability, Features & Price
Microsoft said that the new commercial devices will be available with the company's OEM partners – HP, Lenovo, Acer, and Fujitsu starting at $275, with availability beginning later this year
Features
Easy to use: Since it is similar in function to Windows 10 (except that it is actually a locked version), Firstline Workers will find it easy to work with. Microsoft says that Windows 10 S boots 15 seconds faster and will stay the same. It integrates easily with VM's for remote desktop, apps and One drive thus, enabling first line workers to work from anywhere.
Security: Windows 10 S with Microsoft Edge has been empowered to prevent cyber-crime. Apps are provided through Windows store for security and integrity purposes.
Easily manageable: Windows 10 S PC's will be easy to manage and update with the aid of power and cloud features with Azure Active Directory and Microsoft Intune.
Updates: With Microsoft 365 subscription, organizations would be able to deploy features of Windows 10.
AutoPilot feature: Using AutoPilot feature, Windows 10 S devices can be automatically configured and updated aligning with the organization infrastructure without needing human intervention.
Upcoming Updates: In a future update, organizations will be able to deploy Windows 10 Enterprise capabilities such as Credential Guard, Application Guard and benefit from centralized management of the Store, Cortana and other features on Windows 10 S devices with a Microsoft 365 subscription
Most importantly, all this at just $275!! It does seem to be a decent deal as of now.
Microsoft has not clarified if Windows 10 S laptops will be allowed to upgrade to Windows 10 Pro for free or not.