"Use your phone instead of your password for personal Microsoft accounts", says Microsoft. Signing into your Microsoft account on the phone is easier now. The Microsoft Authenticator App now supports phone sign-in. Furthermore, the Company has also announced the public availability of its Microsoft Authenticator App and phone sign-in feature for Android and iOS platforms. The app is available for free download at Google Play Store and iTunes.
Microsoft Authenticator introduces Phone Sign-In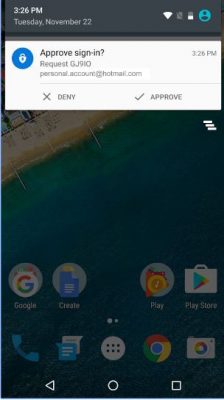 Typing the tedious passwords with special characters on the phone has always been a headache. With this feature, the users can now sign-in to their Microsoft accounts without typing the tedious passwords. They can get into their accounts on phones just by approving certain prompts.
Talking about the latest update and the phone sign-in feature, Microsoft's Director of Program Management Alex Simons said, "Just add your account to the Android or iOS Microsoft Authenticator app, and then enter your username as usual when signing in somewhere new. Instead of entering your password, you'll get a notification on your phone. Unlock your phone, tap 'Approve', and you're in.
"After enrolling your account through the app, you can sign in to your account with only your phone. Just approve the notification sent to the Microsoft Authenticator after entering your username, and provide your passcode or TouchID,"Alex further added.
While the app has always been known for its two-step verification system where users need to verify their identity after entering the passwords, the latest update brings convenience for the users. You just need to enroll with the app and approve the notifications and popped prompts and you can sign-in to your Microsoft account quickly. Please make a note that once you are enrolled with the app, you will be able to log-in to your account only via your phone.
The updated app has already been rolled out, and you can download it from App Store or Google Play depending upon the platform you are using.
Now take a look at the list of all the Microsoft Apps available for Android.