Microsoft has announced the availability of the public preview of Azure Advisor. What is this, you ask? Well, it's a personalized recommendation engine designed to provide best practices when it comes down to optimally configuring Azure resources.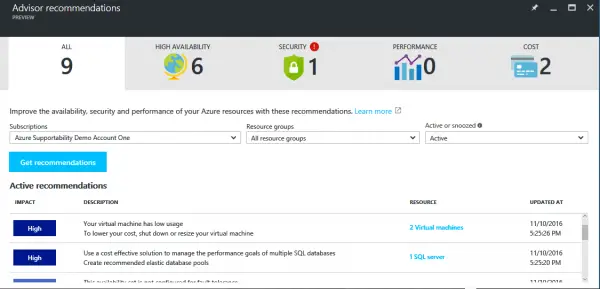 Microsoft Azure Advisor
To get started using Azure Advisor, users will need to log into their Azure account, choose their subscription then click on the Get recommendations button. See? It's that easy.
Here's what the Microsoft blog has to say about Azure Advisor:
Azure Advisor analyzes your resource configuration and usage telemetry to detect risks and potential issues. It then draws on Azure best practices to recommend solutions that will reduce your cost and improve the security, performance, and reliability of your applications. In this blog post, we will do a quick tour of Azure Advisor and discuss how it can help optimize your Azure resources.
It's a great tool because it also provides step-by-step guidance to users and walks them through adding necessary fixes. Furthermore, the tool brings to the table what Microsoft calls inline actions. It's an easy way to implement recommendations without ever having to exit Azure Advisor.
We're not sure if this feature will be made available to every Azure customer from around the world. We do know it takes a while for some regions to get some features, so we're hoping Microsoft doesn't delay it because Azure Advisor is good for all.
The best thing to do right now is to check your Azure account to see if the feature is there and don't hesitate to give it a swirl.