Currently, on the Internet, there are a lot of documentation, videos and other learning material available on Microsoft Azure. However, for developers and entry-level professionals, there is not much guidance available in one place which can be useful for them to clear their Campus or Technical or Screening interviews. Moreover, quite a bit of the current interview material for Microsoft Azure available on the web is a bit old and has not been updated with the new services, terminologies, and offerings.
Microsoft Azure Interview Questions eBook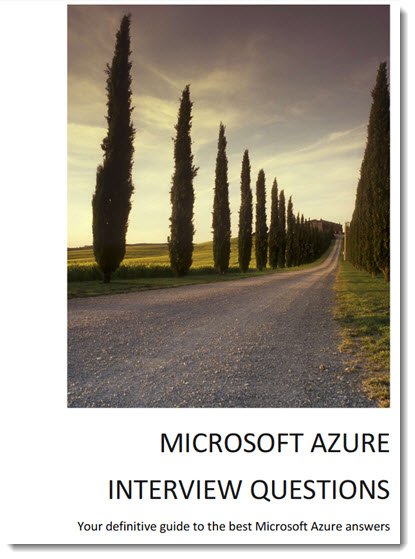 To address this gap, tw0 passionate developers, and Microsoft MVPs who works closely with Microsoft communities came up with the idea of writing a short book or guide titled Microsoft Azure Interview Questions to help professionals get to a level where they can read, understand and easily adopt concepts of Microsoft Azure. This book will also help students clear their Campus/Technical or Screening interviews.
Microsoft Azure was launched in the year 2009, and over the years many enterprises have started adopting Microsoft's cloud platform. The service has also been recently announced as a leader by Gartner. Microsoft recently also adopted Openness in their cloud platform and hence today it is one of the most popular cloud platforms in Public cloud space as well as in enterprises.
Microsoft Azure has many services to offer and is categorized as Platform as a Service (PaaS), Infrastructure as a Service (IaaS) and Software as a Service (SaaS). Many enterprises, small businesses, and startups along with large developer community in Open Source and .NET space, are now recognizing value Cloud (Microsoft Azure) in this case.
Coming back, this ebook has been authored by good friend Vikram Pendse, who is currently a Microsoft MVP for Microsoft Azure & Windows Platform Development and Kunal Chandratre, formerly a Microsoft MVP and currently a Cloud Solutions Architect at Microsoft.
Currently, the book is available as v 1.0, and the authors are working on the next version with more advanced topics and questions. They also plan to include some case studies and solutions.
It is FREE of cost and also does not require any Sign-Up or Account to be created. It also not asks for any references or emails as well and is ads free, as well.
Download your copy today from here. I am sure that students and new job entrants will find it very useful.
Also read: Cloud Computing interview questions and answers.