For the second consecutive year, Microsoft's Azure was named the leader in Gartner's Public Cloud Storage Services. This news should bode well for the software giant as it seeks to bring meaningful competition to Amazon Web Services and Google.
Not too long ago, a report from Nasuni claimed that Microsoft's Azure platform is the best in terms of performance when compared to the other competing cloud platforms.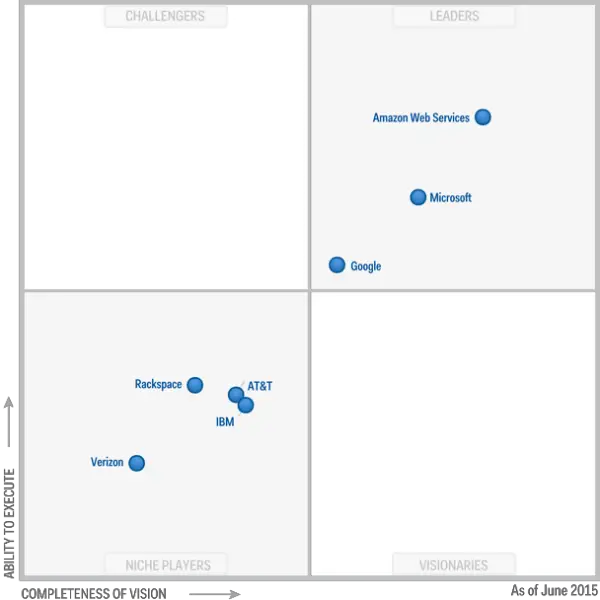 As it stands right now, Azure is the only platform to be named a leader across  IaaS, Application PaaS, and Cloud Storage. We suspect Microsoft would want to take advantage of the Gartner report to gain more customers away from the competition, especially Amazon Web Services (AWS) who is the leader in terms of the amount of people using the platform.
Digital data has been increasing each year, and according to the IDC, by the year 2020, the amount of processed data could reach up to 40 Zettabytes (40,000,000PBs). The majority of this number will be stored in the Cloud, and because of this, we need services that are robust to keep these data going back and forth without a hitch.
Microsoft Azure in its current form is well positioned to take the market by storm as the company is aiming to have the platform available in 22 regions very soon. This means that customers can choose to select a storage location closer to where their app runs, and will also be able to scale what they are working on to meet demand around the world.
Cloud storage is slowly becoming the first choice for many business owners as it is cheaper to have files stored in the cloud than on local systems. It is also more secure, and can be accessed easily anywhere in the world.
With the speed of the Internet increasing worldwide, we expect cloud storage to become the default for every device in the next decade or more. Whether or not this will turn out to be a good thing is left to be seen.
Source: Microsoft.