Earlier available only for the US residents, Microsoft Band is now available for sale in UK and overseas. The first ever wearable tech gadget from the Company launched in the month of October last year was initially made available exclusively in the US market. Expanding its reach, Microsoft now brings the device to the overseas market through their retail partners- Amazon, Best Buy and Target.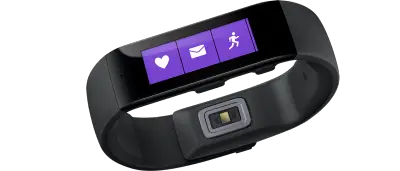 As per the announcement made by the company, Microsoft Band is already available in the market shelves of these retailers. Company is all set with its strategy of broadening the reach of Microsoft Band across US and overseas market.
"In the coming weeks, you'll see a ramping up of Microsoft store inventory across the United States," says Matt Barlow, General Manager of New Devices in the official blog post. Matt further added, "They will receive larger shipments than before, on a more regular basis, and will continue to sell the product in all brick and mortar stores and at microsoftstore.com."
Microsoft Band which comes with a tag price of $199 has a GPS tracker, accelerometer, gyroscope, and an optical heart rate monitor. Furthermore, it also alerts the wearer about the scheduled meetings, emails and messages etc. The built-in sleep tracker helps you tracking the quality of sleep and keeping a track of how many times you woke up in the night and what was your resting heart rate per minute while you were sleeping. The Microsoft Band works along the new Microsoft Health App which includes a cloud service for consumers helping them to store their combined health and fitness data and share it with their doctors when needed.
Showing the Microsoft Band in his hand during the opening keynote of Microsoft's Convergence 2015 business service event, CEO Satya Nadella said, "I also am wearing this Microsoft Band. And the interesting thing about the Band is that it's actually a sensor framework on my wrist".
The Band has been getting a good response from the consumers ever since its launch. It has an average rating of 4.3 out of 5 on the Microsoft Store Website which is praiseworthy. Have a look at this post on Microsoft Band vs Apple Watch too.