A recent blog on Office Blogs reveals that Office 2016 is going to be rolled out in September. The blog was published by Julia White, general manager of Office 365 Technical Product Management.
Office 2016 rollout
Microsoft had made an announcement of Office 2016 IT Pro and Developer Preview in March of this year. Ever since its announcement, Microsoft is gathering feedback and reviews for the Office 2016 suite from its users. The rumors of Office 2017 suite's release were making rounds for quite a long time now. However, now it will be rolled out in reality on September 22nd. Microsoft's Julia White also mentions in her blog that if the users have a volume licensing agreement in place, they can download Office 2016 from the Volume Licensing Service Center starting October 1st.
All important facts about Office 2016
Microsoft mentions that they have enhanced the upgrade and installation experience. Besides, for Office 365 subscribers, they have made changes to how the 2016 apps are updated moving forward. There will be new tools and resources to help the users prepare, deploy and manage Office 2016.
Those who are using Office 365 ProPlus, the subscription version of Office apps for companies and organizations, will continue to receive monthly feature and security updates. Microsoft calls this approach as the 'Current Branch', which means that users will always have the most current Office apps and capabilities deployed. Microsoft is going to release the Current Branch on September 22nd that will have all of the new Office 2016 app updates included. Besides this, there will also be Current Branch for Business option released for updating Office at organization level.
To match the features with Windows 10, the new Current Branch for Business update model delivers three cumulative feature updates per year, while continuing to offer monthly security updates. This way, Office 365 ProPlus will always have current updates while moving forward.
The Current Branch (CB) and Current Branch for Business (CBB) update model in Office 365 ProPlus looks as follows: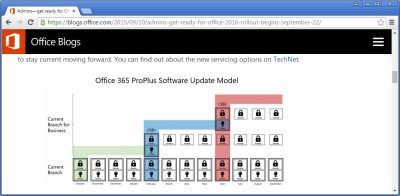 For more updates on Office 2016, read the blog on Office Blogs.