Microsoft has blocked the October 2018 Update being delivered to systems running Windows 10 on some Intel PCs. Specifically those computers running Intel driver versions 24.20.100.6344, 24.20.100.6345 have been blocked.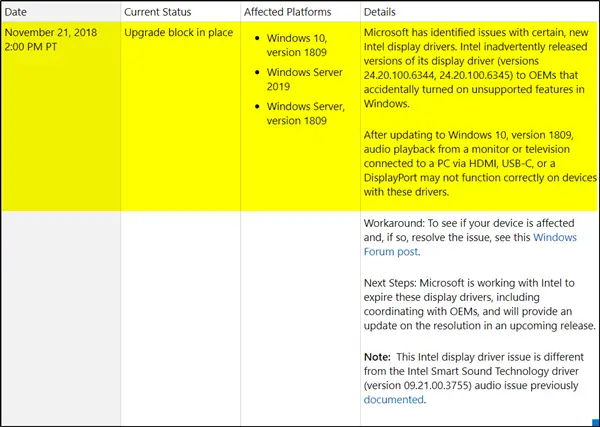 Incompatible Intel Graphics drivers force Microsoft to block Windows 10 v1809 upgrade
Windows 10 devices running the abovementioned drivers were found to interfere with the proper functioning of audio playback feature in Windows 10. The issue became widely known when there was no sound experienced from a monitor or TV connected to PC via HDMI, USB-C or display port.
Microsoft is currently blocking devices with these drivers from installing Windows 10, v 1809, and we are working with Intel to expire these display drivers and provide a resolution in an upcoming release, mentioned a note on Microsoft Support website.
In order to check if your PC has been affected by this issue, do the following –
Open 'Device Manager', find the entry for 'Display Adapters' and expand its menu.
Locate Intel HD Graphics device list, right-click it and select the 'Properties' option.
Now, switch to the 'Drivers' tab and check the version of your driver.
If the driver version is listed, shows either 24.20.100.6344, or 24.20.100.6345, it indicates your system is affected by this issue.  Contact  Microsoft support to resolve the issue.
Earlier too, Microsoft had enforced an Upgrade block in place for Windows 10 for some systems. Now, they seem to have done the same for few Intel PCs too.
For additional information on this topic, you can visit this page and see the first new entry in the table under 'Current status of Windows, version 1809' heading. There, you can find more information about the current status of the issue, affected platforms and details therein.