The task of managing appointments has been much simplified by the roll-out of a service called Microsoft Bookings. The service offers businesses community with a unique web page and a centralized calendar service for better scheduling experience. It is available for all Office 365 Premium users. We now learn Microsoft Bookings will integrate its Page with your business's Facebook Page too.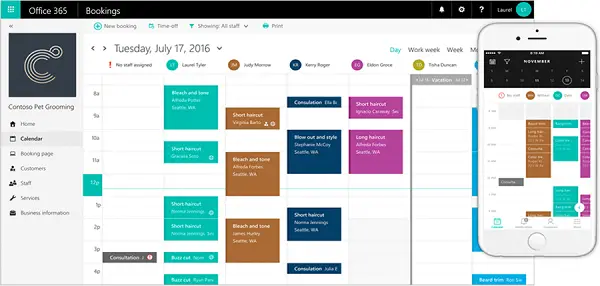 Microsoft Bookings
Microsoft Bookings, a new service available in Office 365 Business Premium, makes it easy for your customers to schedule appointments with you in your own online Bookings Page. We're pleased to announce you can now integrate your Bookings Page with your business's Facebook Page too.
Once you have set Microsoft Bookings on your Facebook Page, your customers simply need to click the Book Now button and select the service and time that works for them. Their contact information will be automatically filled, and once they click Book, they're done.
After your customer clicks Book Now, the same scheduling process—confirmation, notification, appointments, reminders, etc.—happens as if they were using your Microsoft Bookings web page.
Social media is fast gaining acceptance among both, customers and business alike. It has emerged as the one-stop solution to connect with people and conduct business on a larger scale.
When you integrate your Bookings Page with your Facebook Page, all your policies (lead time, cancellation time, and notifications preference/staff selection) will be considered except for the maximum number of days in advance that you can be booked. Customers can only book up to two months in advance through Facebook.
For more information, visit Microsoft Office Blog.