As announced at the Gamescom 2021 event, Microsoft is bringing cloud gaming to Xbox Series X, S, and Xbox One devices. It means Xbox Game Pass Ultimate members will be able to play Xbox cloud gaming titles with no installation required on the hard drive. In addition to enabling super-quick gameplay with no installation necessary, cloud gaming on Xbox will also make It easy to play with friends.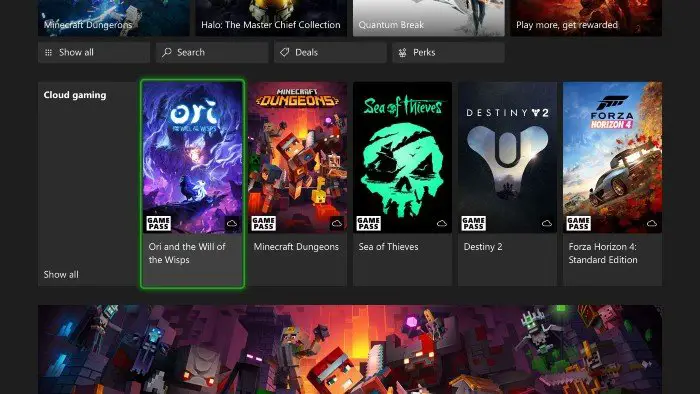 Microsoft plans to make cloud gaming available during the holiday season. Of course, the significant promise here is that users can start playing their favorite or new titles without waiting minutes or hours.
Xbox Cloud gaming is here
The Xbox Game Pass library consists of more than 100 titles, and many are available in the cloud version. For instance, users can enjoy games like Forza Horizon 4, Destiny 2, Minecraft Dungeons, and Sea of Thieves, to name a few. Of course, the developer will bring cloud gaming support to more titles in the future.
For example, the blog post mentions that users can play Gen 9-only games like Microsoft Flight Simulator could be played on Xbox One devices with the help of Cloud Gaming on Xbox. Usually, titles like MFS and The Medium are available only on Xbox Series X and Series S devices.
The company says that it will keep testing the program during this fall. Microsoft is yet to confirm the exact public release of the program, but it will likely be running smoothly by the start of 2022. It has provided little specifications of the program as well.
For instance, it mentioned that games via Xbox Cloud Gaming will be running at a resolution of 1080p and a frame rate of 60fps. Of course, it is a decision to ensure the best gaming experience on multiple devices.
It is also worth noting that cloud gaming on Xbox is not available in all regions. You may have to check the official website to see if your country is on the supported list. As expected, the list says that the program will be available in Canada, the UK, the US, and several European nations. It is unclear whether or when Microsoft will extend the support for other regions.