Making it easy for those who love working with Word, PowerPoint and Excel tools, Microsoft has released the Microsoft Office App for Android smartphones. Microsoft office, which until now wasn't available for Google backed Android platform, has now debuted at Google's  online Play store.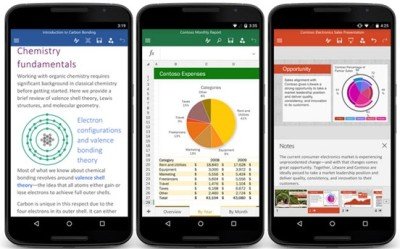 Office App for Android smartphones
Microsoft has already released Office apps for Android Tablet users and it was just a matter of time before Office was made available for millions of Android phone users too.  5 weeks ago, Microsoft had announced Office for Android phone preview and has until now tested 1,900 different Android smartphone models from 83 countries across the World. The feedback as Microsoft says, helped them to simplify the process of connecting the app with digital file storage services  like DropBmplify the process of connecting the app with digital file storage services  like DropBox, Google Drive or even OneDrive.
Announcing the release, Kirk Koenigsbauer, corporate vice president for the Office Client Applications and Services team, mentioned on Office blog,
"Today I'm pleased to announce the general availability of the new Word, Excel and PowerPoint apps for Android phone. During the preview, we heard from thousands of these users, and over the last few weeks we were able to incorporate a lot of their feedback into the apps we're launching today".
Office app for every platform
The release builds on Microsoft's strategy of bringing the productivity of Office to everyone with new Office apps across major mobile platforms. This could prompt smartphone users to Microsoft's online Office 365 service.
With Office available, Android phone users can look forward to utilize app for various purposes, like,
Rolling our presentations directly from the phone without using Laptop
Easy and quick access to documents
Documents updation and access on the go
Access to documents stored in Dropbox, Google Drive or Box using Microsoft's built in support for third-party cloud storage providers.
For those looking to buy an Android smartphone later this year, Microsoft has joined hands with over 30 global, regional and local OEMs such as Samsung, Sony, LG to pre-load Office apps on Android devices. Microsoft expects many of such devices to roll out later in the year.
To download any of the Office app, visit Google Playstore.