After making some really big announcements this year like Windows 10 launch and Equivio acquisition, Microsoft is now in the headlines for bringing Outlook to Android and iOS devices. The email startup Acompli acquired by Microsoft in December 2014 is now being rebranded as Outlook Mobile for Android and iOS platforms. The company has been working on it since the acquisition and promised to deliever new features and functionality in near future.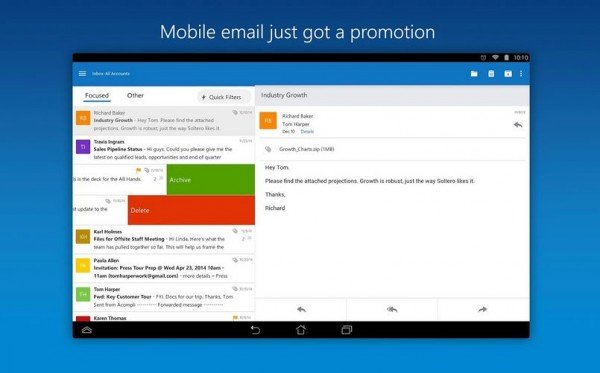 Outlook Mobile Android and iOS
Outlook Mobile is just a rebranded Accompli for now but Microsoft will keep releasing the regular updates for its new Outlook Apps, confirms Microsoft's general manager Julia in her statetent.
Julia said, ""We have been and we'll continue to update the app weekly, so in a very short period time you'll start to see variance from the Acompli app that will not be updated after that point."
The new Outlook apps works well with Outlook.com, Office 365, Exchange, Gmail, Yahoo! Mail and other major email services. Android and iOS users can now manage their work and email on their tablet and Smartphone. Outlook Mobile comes customizable options and integrated calendaring which will help users to schedule a meeting and share it with their colleagues.
Furthermore, Microsoft has also announced other Office apps for Android platform. As published in the official Microsoft blog, the company is now removing the "Preview" label from Office for Android apps. Android users can now download Excel for Android, Word for Android tablet, and OneNote for Android tablet and PowerPoint for Android tablet from Google Play Store.
Stay tuned to the Office Blog for more updates.