Microsoft continues to bring its services to other platforms such as Android and iOS. The latest is an IM-like app called Send, which was previous exclusive to iOS, now it has come to Android.
Microsoft Send for Android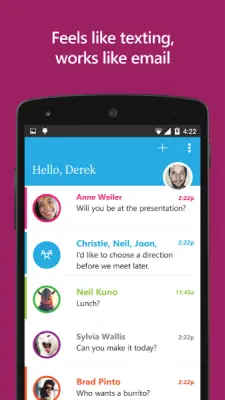 Send is an app that brings emails into a Messenger interface, and as such, it allows users to enjoy the benefits of both worlds. With this app, there is no need to fill out the subject field when compared to other traditional email programs.
Send also comes with predefined replies for faster responses on the fly.
Due to the convenience of Send, the app has found its way into universities, colleges, and even the business environment, especially those with strong a mobile workforce.
As stated above, Send debuted exclusively on iOS, but now Microsoft is releasing the app on Android due to popular request. We understand the app is currently only available in the United States, Canada, U.K., Denmark and Brazil.
With the release of Send on Android, Microsoft has added more features. Users can now share their location, make phone calls, along with deleting conversations and adding more people to a conversation.
What's more fascinating is the fact that Send now supports the sharing of .GIF images. "Sometimes a simple GIF can express more than words ever could," said Microsoft in a blog post.
Unfortunately for the many people who might be interested in giving Send a test drive, it is only available for users with business and education accounts on Office 365.
We also have to point out how Send is another huge proof how Microsoft could be gearing up to abandon its mobile operating system in the future. We say this because Send is not available for Windows Phone or Windows 10 Mobile.
We're not sure if it will in the future, but releasing it first for other platforms is telling.
Now take a look at the list of all the Microsoft Apps available for Android.