BrowserStack is a mobile and web testing service which allows you to test your website for cross browser compatibility. Recently, it has joined hands with Microsoft's Edge browser in an effort to offer free remote virtual testing on Microsoft Edge. This appears to be a good news for the web developers who do not necessarily have access to Windows 10 PCs or local virtual machine for testing.
Free Testing of Edge browser by Web Developers via BrowserStack
By partnering with BrowserStack, Microsoft will be obliged to offer remote virtual testing against its Edge browser at zero cost. Also, BrowserStack's Automate component will be offered to the developers for free. This will enable free testing on Edge browser via script and use of the WebDriver API, up to 10 instances of Edge. Moreover, Live Testing will provide a cloud-based instance of Edge over WebRTC, thereby allowing a web developer to interact with the browser as if it was installed on the local machine.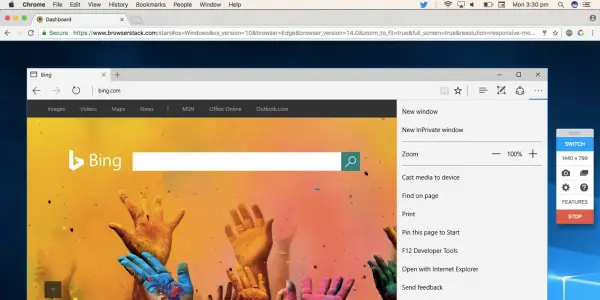 Today, we are excited to partner with BrowserStack, which provides the industry's fastest testing on physical devices and browsers, so that you can focus on delivering customers the best version of your product or website. BrowserStack is trusted by developers at over 36,000 companies, including Microsoft, to help make the testing process faster and more accessible. Under this new partnership, developers will be able to sign into BrowserStack and test Microsoft Edge using their Live and Automate services for free, mentioned Microsoft Blog.
The driving force behind this initiative was limited capability of testing against a specific version of the program, i.e., if someone intended to test something he would be restricted either to a virtual machines or PCs running Windows 10. That's no more a case now since any web developer would be able to run BrowserStack's Live Testing service in any WebRTC-capable browser on Linux, MacOS or even older versions of Windows.
BrowserStack currently serves renowned customers such as Microsoft, AirBnB, and MasterCard. In addition to Microsoft Edge, the service offers over 1100 combinations of operating systems and browsers.